Meik Wiking doesn't just write about the art of making happy memories, he stars in an inspiring "Ted Talk" that has gotten attention from so many people, his work was even featured in an edition of the South China Morning Post! Why do people crave unforgettable memories? Wiking says we all need them to get us through dark times when the world seems askew and one vivid memory may be all that's needed to feel hope again.
What's the biggest takeaway from Wiking? If you prioritize new and novel experiences, these "firsts" stick around longer. Wiking calls this phenomenon "the reminiscence effect," experiences that are so remarkable, just thinking of a beach, for example, can trigger a happy moment from the past. Do you recall your first beach visit as a kid?
Science substantiates this marvel
To determine the power of reminiscences, the Happiness Research Institute asked ordinary people to explain why new and novel experiences remained so vivid while repeat experiences weren't as memorable. Over 73% of study participants recalled detailed, specific recollections associated with first-time experiences that they couldn't recall about subsequent incidents. Think about it. You'll likely agree.
Build your memory bank by taking the family to new places rather than returning to the same vacation venues. This is especially beneficial for kids whose early experiences have the potential to "harness the power of firsts," and few destinations compete with the memories you'll make at Manta Island Resort off the Belize coast. This resort was designed for memory-making.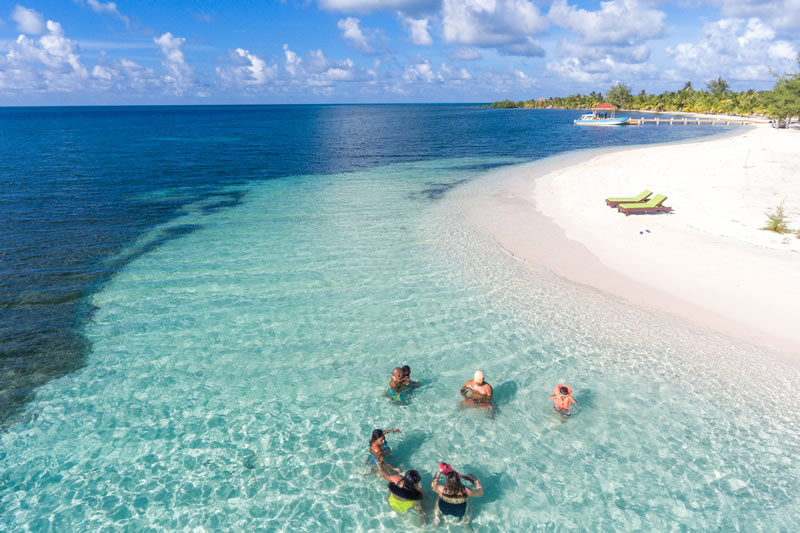 Tips for capturing memories during your Manta Island stay
Prepare kids for natural wonders they'll see by ordering a copy of Coral or another book about reefs. You'll be sojourning on an oval ring of coral and these types of books can be invaluable to prepare your kids for the memories they'll make.
Take selfies and group photos. Photographers recommend 3 snaps, one of which will be the best. You'll have plenty of time to capture memories if you've booked the all inclusive package that covers your family's sojourn for the duration of your stay.
Based on your youngster's age, fishing, diving, and snorkeling tours can all be added to your package, giving you priceless opportunities to share everything about your family's adventure. Reward yourself by booking resort spa services.
Hire a babysitter for "a night out" to tighten the bonds of your relationship. Dine at the Black Coral Restaurant & Bar where service is available as late as 8:30 p.m. and the bar stays open until 10.
While your package is designed to free you up to update your journal to memorialize your stay in detail and take photos that capture every highlight, you might be able to snag a 2023 resort special that could make your family stay even more affordable. Enshrine those first-time memories. Don't be surprised if your decision to take the family to a new spot every year becomes your lifetime vacation standard.
Call or email our Reservations office today!
(800) 408-8224
info@MantaIslandResort.com
www.MantaIslandResort.com