Getting to Manta Island Resort
MANTA ISLAND RESORT LOCATION
Blissfully remote, yet accessible by a puddle jumper plane and boat from the Belize International Airport, Manta Island Resort is set at the southernmost tip of Glover's Reef Atoll approximately 36 miles off the coast of Belize. Belize is a small nation located in Central America. Bordered by Mexico and Guatemala to the west and the Caribbean Sea to the east, it is north of Honduras and is an English speaking country.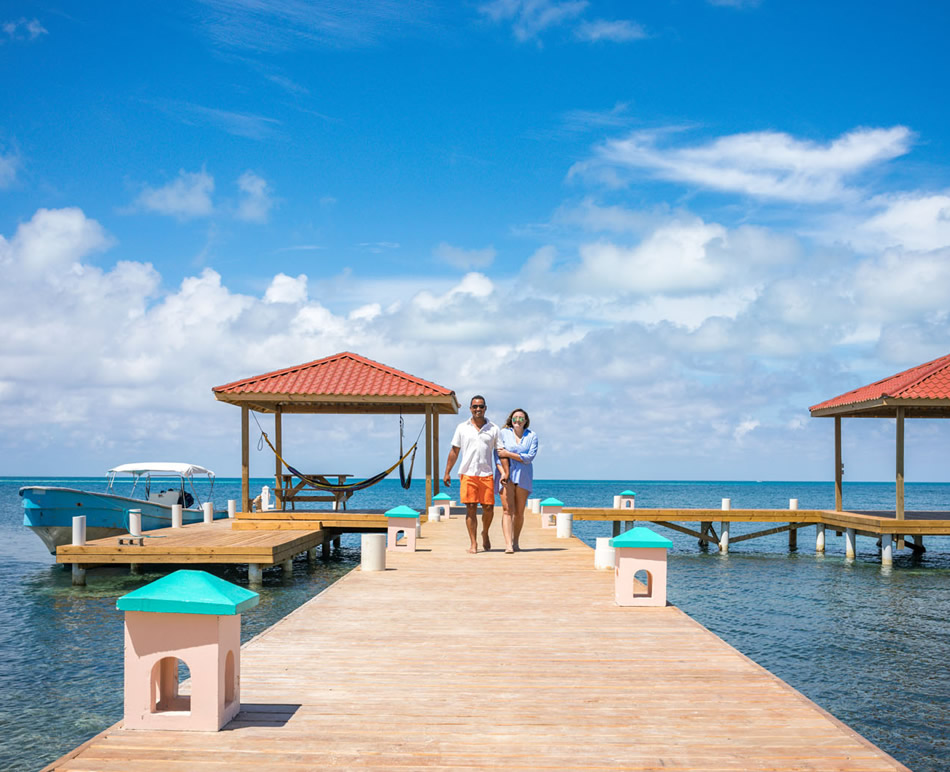 Accessible by many
US and Canadian cities
Getting to Glover's Reef Atoll from most US and Canadian cities can easily be accomplished in less than a day. While you are responsible for booking your own international flights from your departure destinations, there are several options for flying to Belize, and typically the best rates are secured in advance. Traveling to Belize is easier than ever with nonstop flights from Miami, Houston, Dallas or, Atlanta, all typically less than two hours.
All international flights to Belize land at the only International Airport in the country, the Philip S. W. Goldson International Airport (Code: BZE). You can secure your international flights to and from Belize through the airline directly or through an agent of your choice. Please note that arrivals and departures to Manta Island Resort on Glover's Reef Atoll are scheduled on Wednesdays and Saturdays only.
HOW TO GET TO MANTA ISLAND
Getting Here Is Half The Fun
Upon reserving your international airfare, we make getting here as easy and stress-free as possible. All domestic transfers* from the Belize International Airport to Manta Island Resort are included in our rates and are arranged by our team of Belize travel experts.
When your international flight arrives at the Belize International Airport, expect to spend anywhere from 45 minutes to 1 hour getting your luggage and clearing customs & immigration. Please refer to the Belize Tourism Site: https://www.travelbelize.org/health-safety for the most up to date COVID-19 requirements when traveling to Belize.
Thereafter, you will be transferred to the domestic airline terminal for a 20-minute puddle jumper flight to Dangriga Town. Although the flight is short, it will provide you with an unforgettable introduction to the wonders of Belize as you get a bird's-eye view of the coastline with the sparkling Caribbean Sea to the east and the dense tropical jungle in the distance to the west.
After landing in Dangriga Town, you will be warmly welcomed by a team member of Manta Island Resort. Expect cold bottles of water and a friendly smile as you are driven to the local boat marina. This is a great opportunity to enjoy the scenes of an authentic Belizean town before heading to your very own private island.
At the local marina in Dangriga Town, your boat ride to Manta Island Resort will begin. The boat ride is 36 miles by sea and takes approximately 75 minutes, depending on weather and marine conditions. Safety is the number one consideration, and our experienced boat captains are fully equipped to make the crossing in our 38ft covered boat.
Embrace your inner pirate as you soar through the waves of the Caribbean. During the first portion of your sea journey, you'll head east toward the Belize Barrier Reef. After about 30 minutes, you'll pass a multitude of islands, including our very own sister resort, Coco Plum Island. The halfway point is marked a few moments later at the crossing of the Belize Barrier Reef in the Southern Barrier Reef Reserve. Thereafter, you are surrounded by the "deep blue" as you head south toward Glover's Reef Atoll for the latter part of your journey. As you begin to approach your destination, you'll see a sphere of crystal clear water surrounding Glover's Reef Atoll.
Waiting at the dock, you'll spot our Manta Island Team with a signature welcome drink just for you. Soak up the awe of Manta Island Resort's pristine location and prepare to be pampered for the duration of your stay.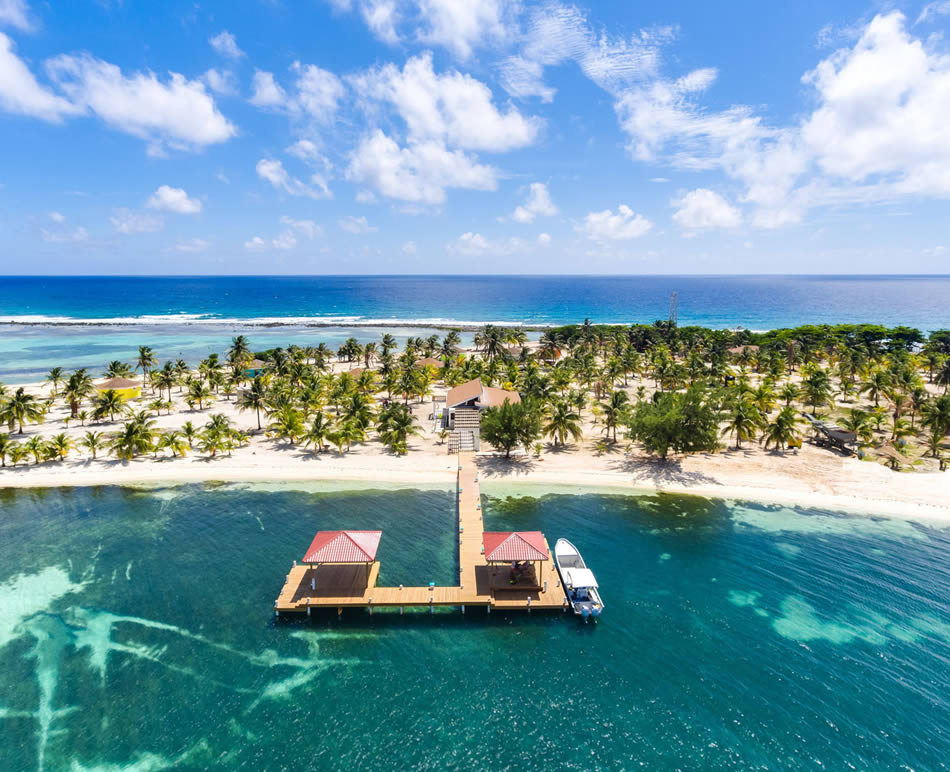 Getting to the Island By Private Helicopter
START YOUR HOLIDAY IN STYLE
For travelers wanting a quicker route to Manta Island Resort, we offer an alternate option of flying directly from the Belize International Airport to Manta Island Resort via helicopter. Guaranteed to get you where you want to go in an efficient and safe manner, this direct helicopter transfer will only take approximately 40 minutes from the Belize International Airport to Manta Island Resort. Contact us directly for rates as the helicopter transfer has an additional surcharge fee.
*The details
Arrivals and departures to Manta Island Resort on Glover's Reef Atoll are scheduled on Wednesdays and Saturdays only.
It is also possible to arrive a day early and spend the night at our sister resort in Hopkins, Belizean Dreams Resort which we can facilitate at an additional cost.
We strongly recommend booking an international flight that arrives in Belize City before 1:00PM. This allows sufficient time to make the local connecting flight to Dangriga Town. If the international flight arrives after 1:00PM it is difficult to reach Dangriga in time for the scheduled boat transfer which departs Dangriga between 2:00PM and 3:30PM.
What are the entry requirements for Belize?
A valid passport for no less than three months after your intended period of stay for citizens of the following countries: U.S., Britain, Canada, Australia, Hong Kong, Mexico, New Zealand, Norway, Venezuela, CARICOM member states, nationals of European Community countries. Children under 18 years of age traveling with one parent require a notarized letter of authority from the other parent indicating travel consent. Travelers are permitted to stay in Belize for 30 days. Extensions for longer stays can be processed through the Immigration Office in Belize City for a fee, check with that office for the most recent fee.  Kindly note, this info is subject to change, please refer to the Belize Tourism Site.
Belize requires citizens from the following countries to have an entry visa: China, Cuba, Honduras, Haiti, South Africa, Taiwan, India, Libya and more. We do not keep an exhaustive list, for more up to date info see check this website.
For COVID-19 entry requirements, tips can be found on our COVID-19 info page, we do strive to keep that page updated but it is best to refer to the Belize Tourism Site for the most up to date info.
"This was one of the best vacations I have ever had and the location could not be more stunning."