Explore Our Special Offers
Who doesn't want to stay at a resort that strives to be all things to all guests — especially those whose overriding desire is to make sure every minute of their vacation is spent indulging themselves and their senses?
At Manta Island Resort, Belize, the value of our packages are unbeatable — we've thought of just about everything to make your vacation as stress-free as possible. And with our seasonal Belize specials, you'll be able to maximize your stay. We also invite you to sign up for our email newsletter (the sign up button is at the bottom of this page) to be the first to hear about new promotions and events.
Book now and thank us later!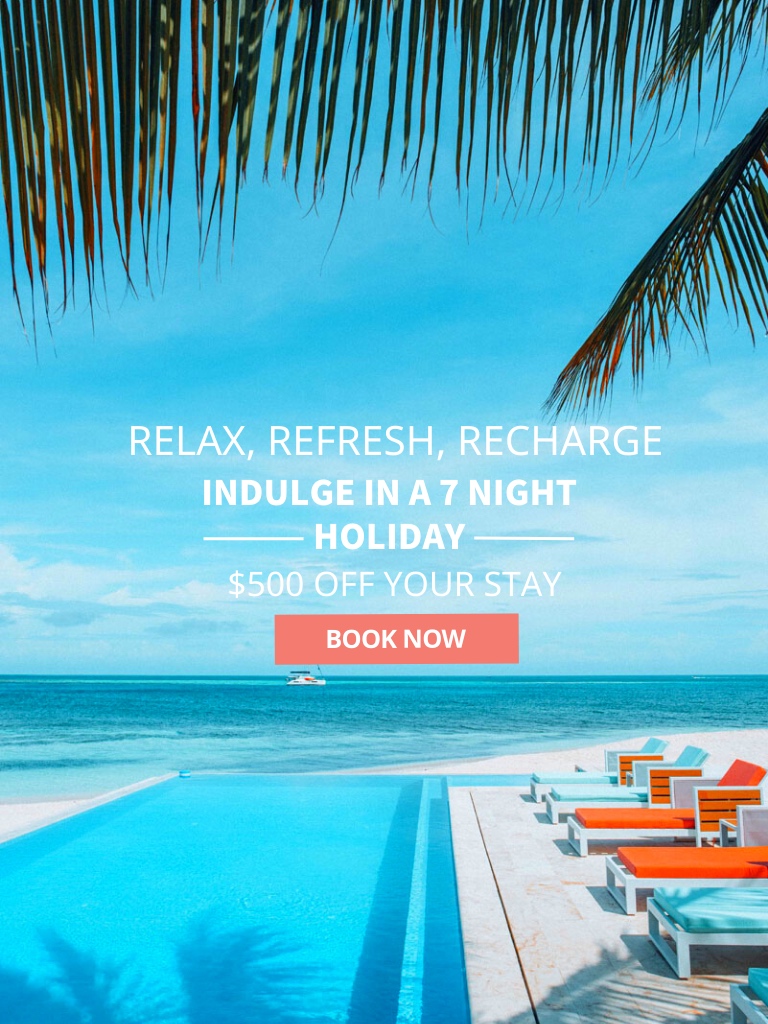 How about $500 off?
Get Ready To Relax & Recharge
Take Advantage of this Offer!
Now's the time to plan your dream tropical island vacation and save up to $500! Manta Island has it all, beachfront accommodations, direct access to the second largest barrier reef in the world for amazing aquatic activities — enjoy snorkeling, diving, fishing, kayaking, you name it, we've got it! For a limited time, book your All Inclusive escape for US$500 off (7 nights) or US$250 off (4 nights).
*Certain restrictions apply. Valid for direct bookings only. Does not apply to Island Rental Package. Cannot be applied to add-ons. Minimum of a 4 nights stay required. Based on double occupancy. One discount will be applied per reservation. This special only applies to NEW bookings and cannot be combined with any other discount. Guests must arrive and depart on Saturdays and Wednesdays only. Our resort policies are applicable to all guests which include, but not limited to: cancellation policy, occupancy restrictions/availability, and booking policy. Blackout dates include: November 19, 2022 – November 27, 2022.
"PARADISE FOUND: FIVE STARS!!! From the moment we arrived we knew this resort was great."