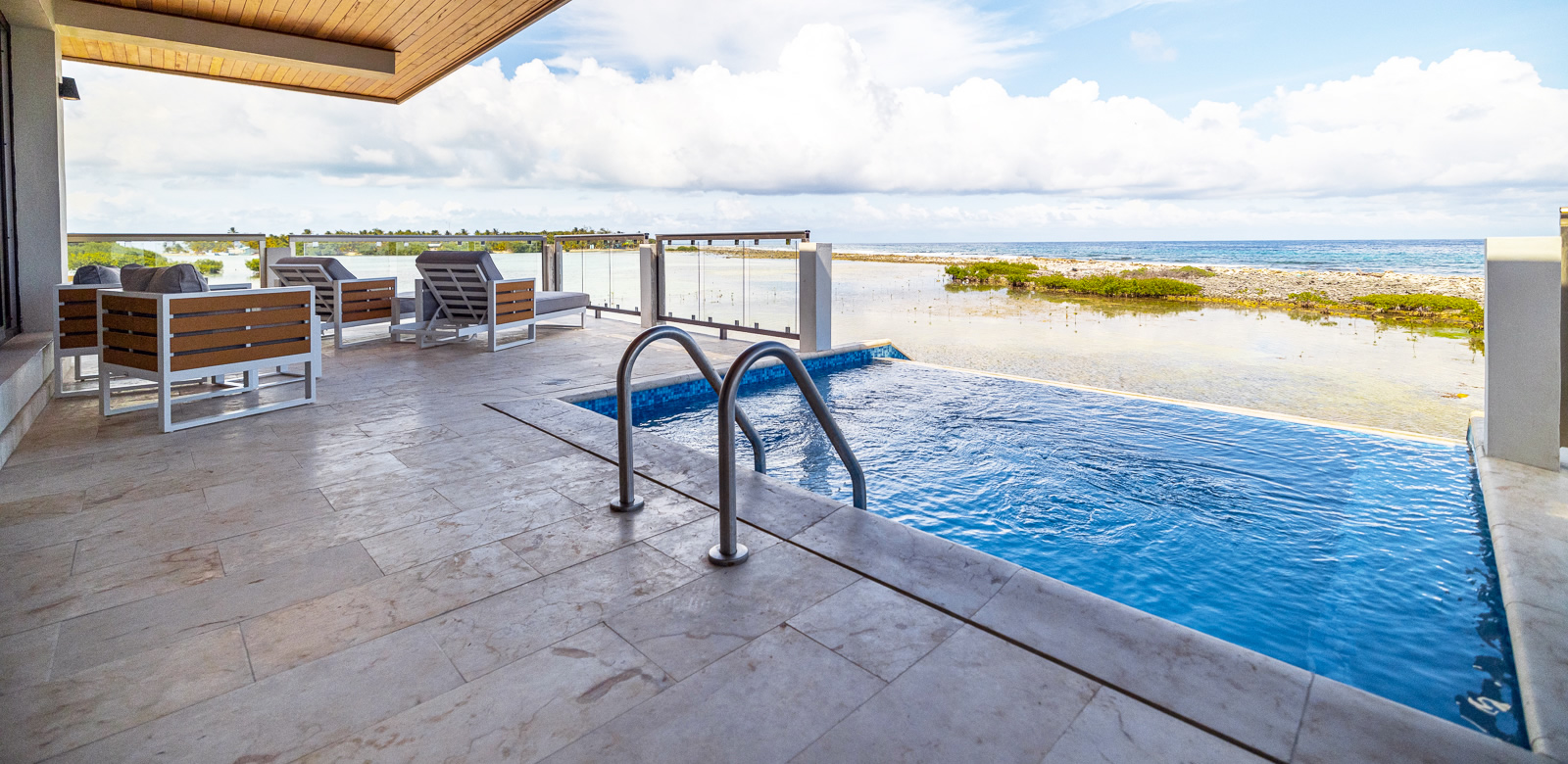 CELEBRITY VACATION PACKAGE
THE BEST ALL INCLUSIVE VACATION IN BELIZE
You're the Celebrity. This Belize All Inclusive Resort in the Caribbean is Your Destiny
A Manta Island Resort Celebrity Vacation Package provides the ultimate getaway, a reward for just being you. This is the Belize all-inclusive vacation you would invent if given the chance and an unlimited budget – including your very own Reef Villa with private plunge pool plus your own personal concierge service. There are more awe-inspiring inclusions in Manta Island Resort's Celebrity Package. Why would you settle for anything less? This pristine, off-grid wonderland, far from crowds, will recharge your spirit in ways only celebrities enjoy.
Arrive at Manta Island Resort in style
No ordinary transport gets you to this posh Belize all-inclusive resort. Instead you'll be whisked away in a private helicopter ride from the Belize City International Airport (BZE) over the western hemisphere's largest barrier reef and the Belize Blue Hole with expansive shades of beautiful blue Caribbean waters to land directly on your private island hideaway. From there, your personal butler will escort you to your Two Bedroom Reef Villa with Plunge Pool tucked so far away from other guests, you'll experience unprecedented privacy. The unique villa design offers an open concept living room and kitchen overlooking a spacious sun deck and private infinity pool perched atop the mangrove-fringed shoreline – just where the coral reef meets the lagoon.
Escape to Belizean Luxury
Your VIP package includes exclusive perks such as private snorkeling and fishing tours, a private Glover's Reef Atoll boat trip, a romantic sunset cruise, complimentary massages, private candlelit dinner on the balcony of your villa and service so exquisite, staff will anticipate your needs before you articulate them. Customize your sojourn. Stay 4 or 7 nights within a haven of tropical splendor.
Revel in Truly Unique Experiences
Located on Glover's Reef Atoll, guests feel exhilarated by inspiring vistas, a turquoise ocean, and onsite amenities. Request spa services and a masseuse appears at your villa. This Belize private island resort is the ultimate splurge. Treat yourself, you deserve it.
YOUR CELEBRITY VACATION PACKAGE INCLUDES
LOW SEASON (May 30-Dec 18)
HIGH SEASON (Dec 19-May 29)
Prices are in US dollars and are PER COUPLE based on double occupancy (which just means that the rates listed are for two persons in one villa).
MAKE YOUR VACATION EVEN MORE OUTSTANDING
Reservation Office Hours​
CENTRAL STANDARD TIME
Mon to Fri: 8am – 5pm
Sat: 8am – 12pm
Sun: Closed
Kindly Note:  We do not observe Daylight Saving Time, so when others spring forward one hour, we stay put.
Hear What Travelers Are Saying About Our Collection of Resorts
"Manta = Magic: Ever experience a vacation that will forever set the bar for future vacations... Well I just did. I just spent 1 week on this magical island with a staff totally devoted to my every comfort. The entire staff "