Belize All Inclusive Honeymoon Package
Every couple is unique, but one thing newlyweds agree upon is their desire for a honeymoon designed to suit their sensibilities. Couples dream about relaxing at a top-notch resort that caters to folks whose singular goal is together time in a pristine environment. What an added bonus that this 12-acre island resort is the epitome of Caribbean splendor and beauty. It's an ultra private destination located miles off the coast of Belize. Start your marriage in the perfect setting with our Belize luxury Honeymoon Add-On Package designed to delight couples seeking a carefree honeymoon.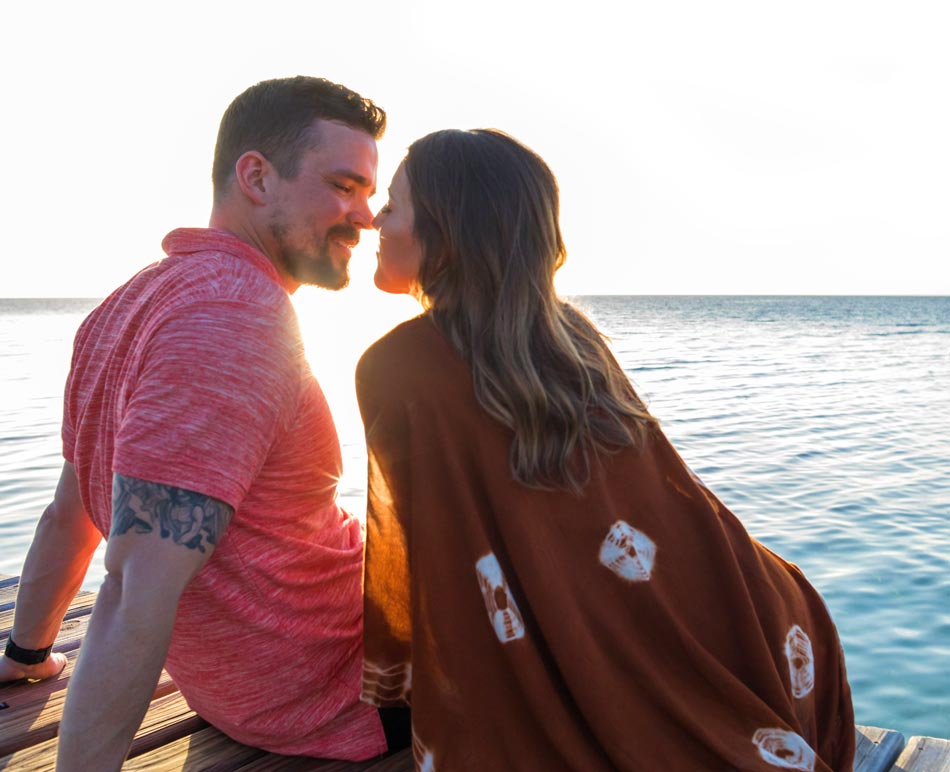 Set the Stage for Romance
Not just for honeymooners
Whether you're celebrating a romantic honeymoon, anniversary, engagement, special occasion, or simply want to get away, Manta Island Resort is the ultimate all inclusive destination for lovers in Belize. Prepare to be spoiled with fresh flowers and turndown upon your arrival. Relish intimate moments with a private candlelight dinner under the stars. The benefits are endless with our Belize all inclusive Honeymoon & Romance Add-On as couples can spend their vacation savoring special moments rather than worrying about the details.
Unwrap the Best Package Couples Could Ask For
With all the basic inclusions covered in your stay, you can enjoy à la carte tours and package add-ons not included because you've already saved a bundle on your accommodations, food, and island amenities. Our Honeymoon & Romance Add-On includes a cluster of romantic perks at a reduced price so you can be sure to turn up the heat.
Honeymoon & Romance Add-On Includes
Purchase add-ons prior to arrival through the Reservations Team or with the Front Desk.
See à la carte menu if you are interested in purchasing items individually.
Unused portions of add-ons are non-refundable and non-transferable.
All tours are dependent upon weather conditions.
Hear What Travelers Are Saying About Our Collection of Resorts
"We had a perfect stay on the island for our honeymoon. It was a dream come true. We will definitely come back again to celebrate future anniversaries!"