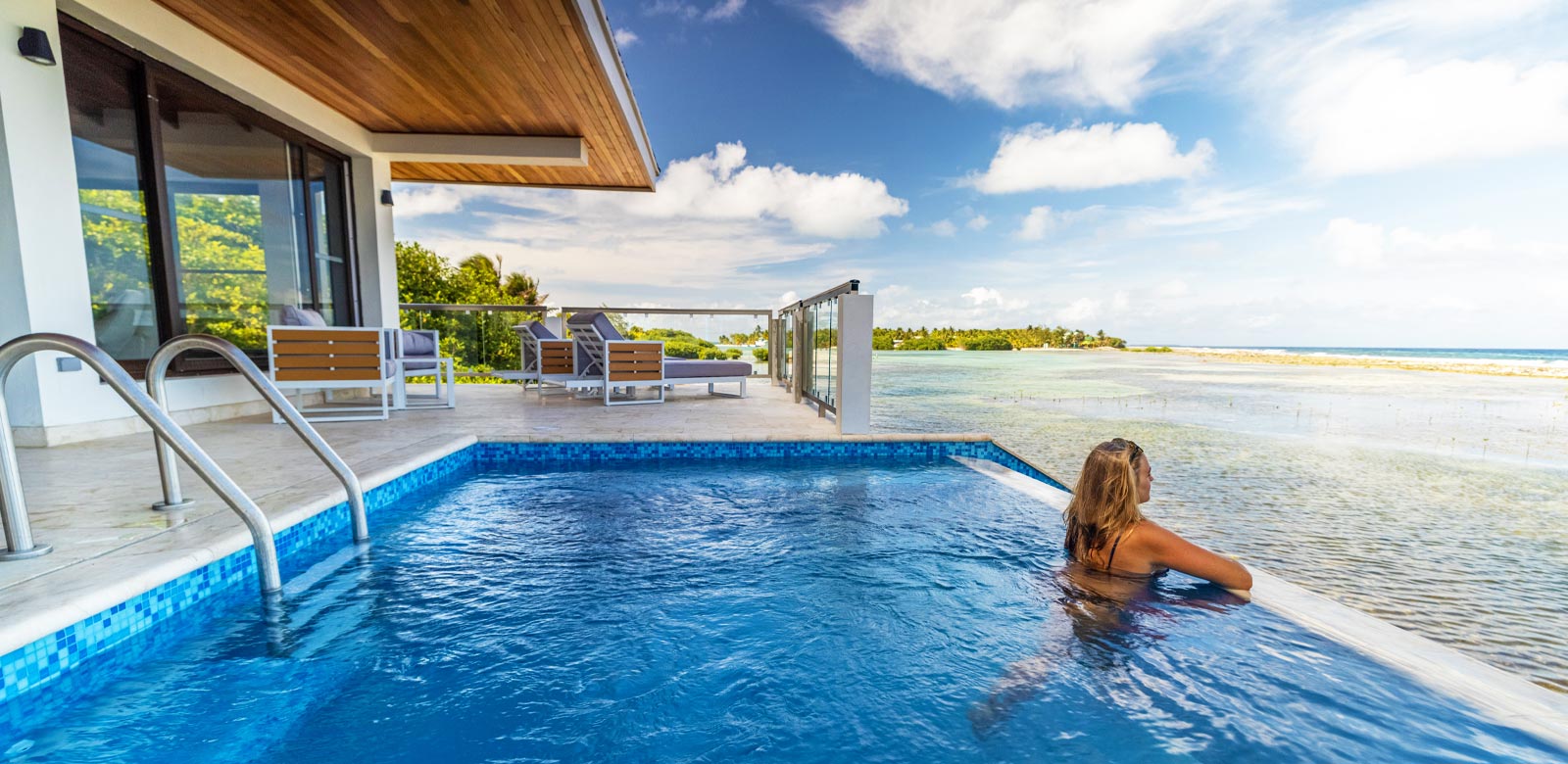 Belize Reef Villa With Plunge Pool
Overwater Reef Bungalow With Plunge Pool In Belize
On the shores of Glover's Reef Atoll, you'll find a private tropical paradise immersed in beauty and splendor. You'll feel a world away from reality as you take in the chill island vibes among the stunning waters and powdery white sands of the Caribbean. Within the secluded shores of Manta Island Resort, treat yourself to an off-the-grid luxurious vacation stay at our reef bungalow in Belize. This Two Bedroom Reef Villa with Plunge Pool is exquisitely designed to offer a private and secluded getaway for newlyweds, couples, or friends looking to create amazing memories that will last a lifetime. Step onto your expansive veranda to gaze at the gentle waters of the reef below, where you may spot a small stingray or a school of bonefish swimming among the natural marshes. Or take a dip in your private plunge pool with a cool drink in hand, as the soft ocean breeze provides ultimate relaxation. Your secluded reef villa is nestled in native island bushes to elicit the feeling of a tropical hideaway, providing secluded separation from the other reef villas and cabanas. Savouring absolute luxury and exclusivity while having the abundance Manta amenities at your fingertips.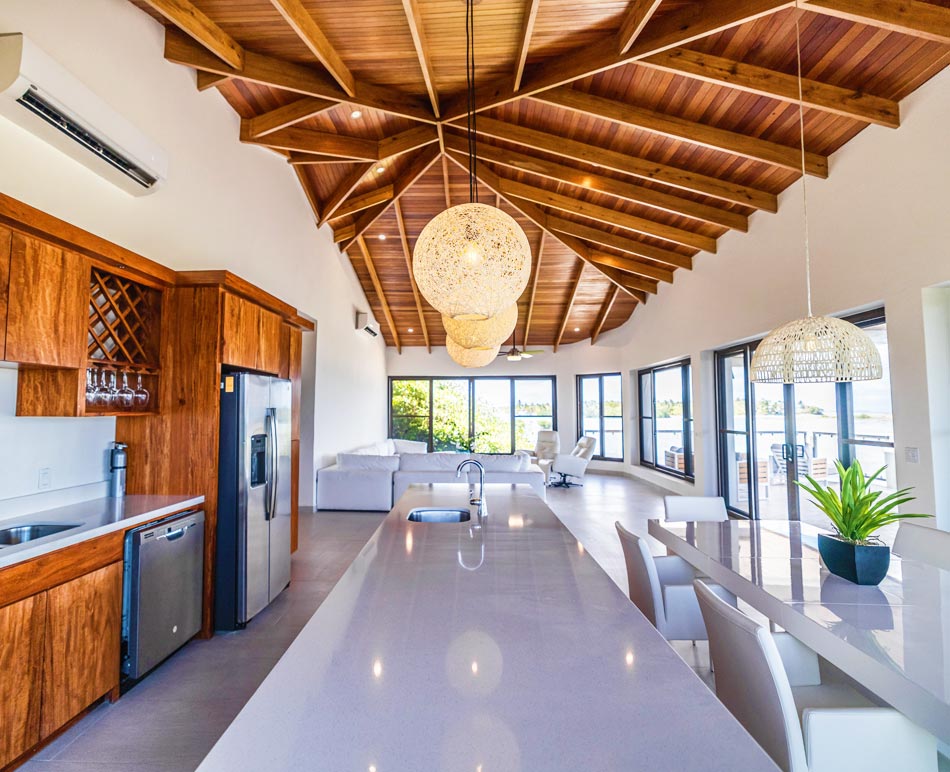 The modern, well-appointed interior of your Belize luxe villa includes all the comforts of home – but with a much better view. In the fully equipped kitchen, you can whip up your favorite tropical fruit smoothies or or frozen treat as you gaze out over the expansive reef from your private veranda. Each bedroom features a king bed and blackout curtains to give you a restful night of sleep to prepare for your next adventure. And when you wake to the Caribbean reef outside your window, the plush robes, toiletries, and premium bathroom amenities will have you excited to get up and start your day of unprecedented tranquility. Gourmet room service, walk-in shower with rain head, and daily housekeeping are just a few more of the amazing features included when you book a stay in your own private overwater reef villa. Your secluded two bedroom bungalow is in close proximity to some of the world's best snorkeling and dive sites, fishing, paddle boarding, and many other outdoor activities. You can even book a sunset cruise to cap off your day in style. Get ready to experience personalized off-the-grid luxury beyond your wildest dreams.
Starting at $670.00 USD/per person/per night
(based on 4 adults staying 7 nights)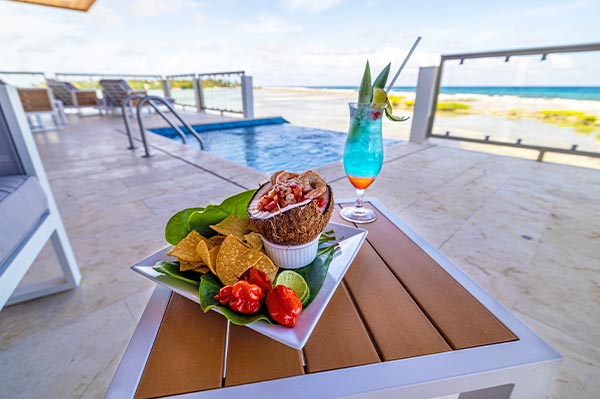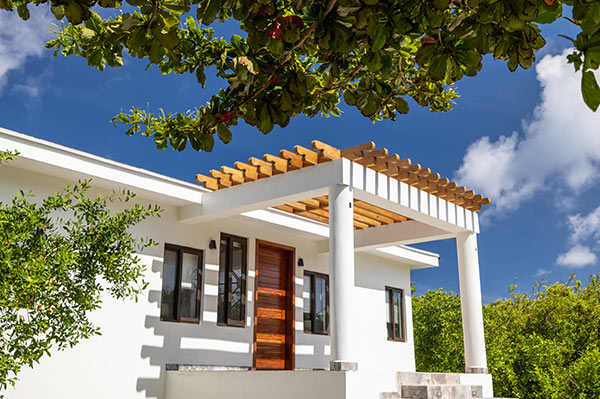 Embrace the serenity of your surroundings
Reef Villa with Plunge Pool Amenities
TWO BEDROOM REEF VILLA WITH PLUNGE POOL PACKAGE INCLUDES:
MAKE YOUR VACATION EVEN BETTER
ALTERNATE VACATION PACKAGE
While our Two Bedroom Reef Villa With Plunge Pool Package is an amazing choice, if you're looking for the full VIP experience, be sure to take a look at our Two Bedroom Reef Villa With Plunge Pool Celebrity Vacation Package.
"We stayed in the villa with a pool, and it was beyond anything we were expecting. From the furniture, to the details...it was incredible. Our family LOVED the privacy of the pool, and space to hang out and relax. The view is something out of a movie...we watched baby sharks swim by! The entire property was beautiful and the pictures just don't give it justice. We have traveled all over Belize, and this place is the BEST! "