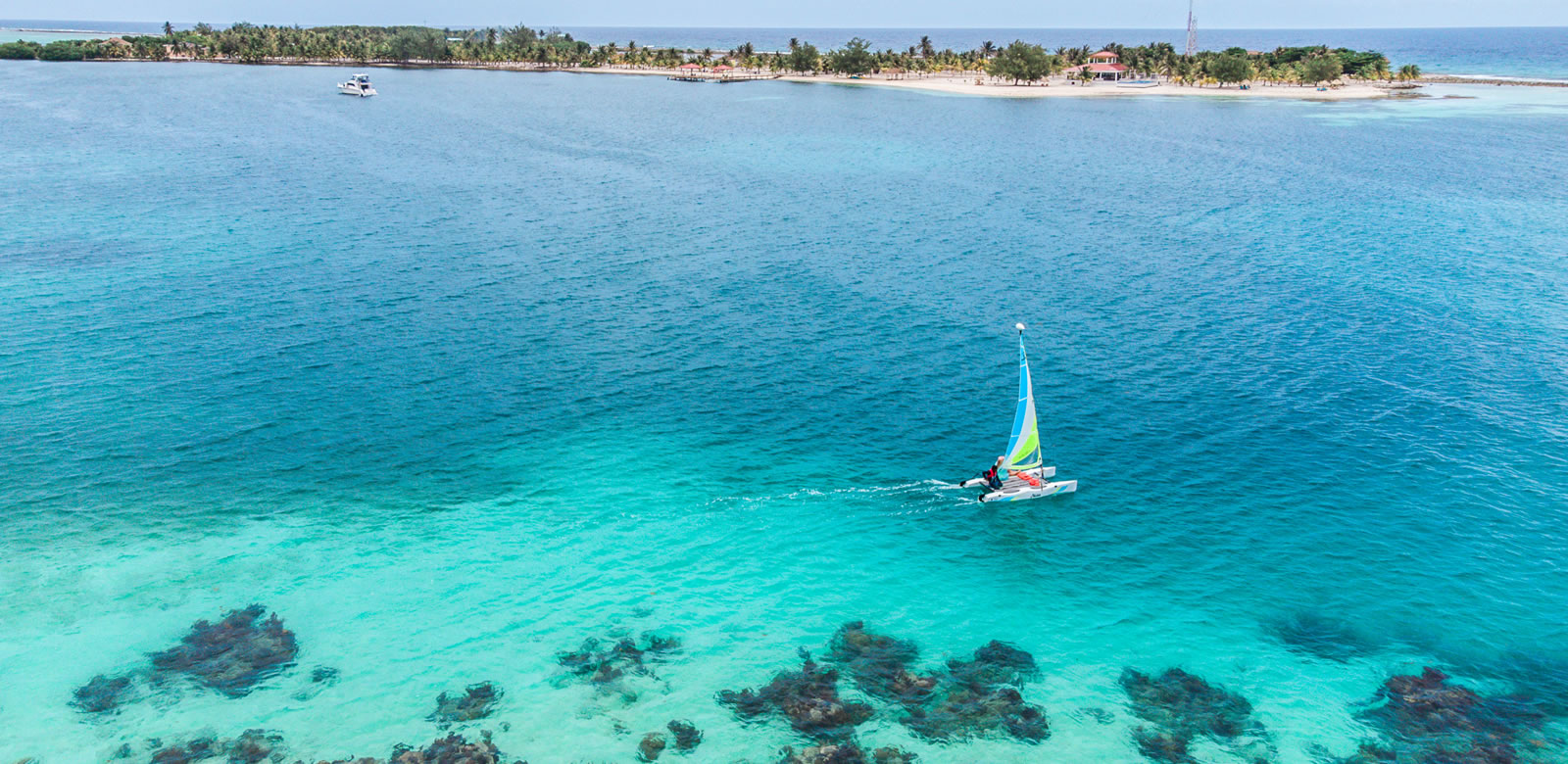 If you were asked to design a 21st century tropical paradise located on a private island, what would you include in your master plan? Perpetually warm sun? A sense of safety and security? How about a resort that caters to the hopes, dreams and aspirations of guests? A place where every person understands why a vacation venue must go above and beyond the ordinary.
Happily, you don't have to design this destination because it already exists off the coast of Central America. Manta Island is an intimate, all inclusive resort in Belize designed to exceed expectations. Located amid the ultra-blue Caribbean Sea and far enough off mainland Belize to offer exquisite amounts of privacy and intimacy, Manta Island Resort is paradise reinvented.
Location, Location, Location
Where will you find this remarkable destination? In close proximity to Glover's Reef, the partially-submerged atoll off the southern coast of Belize that represents the outermost boundary of the Belize Barrier Reef. Your Manta Island stay gives you access to this remarkable natural wonder.
While the resort itself is known for its top-notch customer service, it's the free marine activities to which every guest is entitled that make this location unique. While many island resorts add fees to just about everything under the sun, you're invited to swim, snorkel, take part in Glover's Reef group snorkeling adventures, pilot a Hobie cat and more!
Your Island Playground
How can a Belize island resort that is this elegant afford to offer so many free activities? Because each activity is part and parcel of the Manta Island experience, a gift to every guest. That stated, for guests with the time and desire to add additional activities to their itineraries, a la carte excursions like fishing, private Glover's Reef tours, scuba diving, sunset cruising or spa services, these are all available simply by requesting one or more from the front desk.
Manta Island Resort's 7-day all inclusive base package is the ultimate experience, created by professionals dedicated to offering the ultimate guest experience. For a vacation that delivers on the exceptional promise of perfection, no other private island in Belize comes close. Idyllic. Fanciful. Sublime!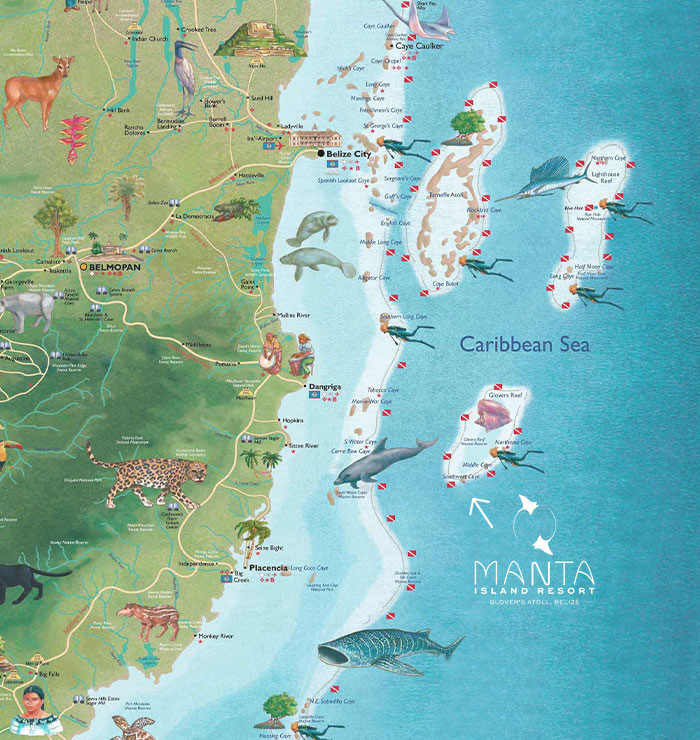 Located about 36 miles from the mainland in southern Belize is Glover's Reef Atoll, a world heritage site & marine reserve. The area is known for having the greatest diversity of reef types in the Caribbean & is the perfect place for scuba diving, snorkeling, fishing and kayaking. Whether you crave island adventures or simply want to relax on a beach, Glovers Reef Atoll will fulfill your travel dreams.
The Belize Barrier Reef Is Our Playground
Surrounded by the mesmerizing Caribbean Sea, Manta Island Resort is an ideal location for enjoying world class marine adventures. Popular adventure activities include fishing, scuba diving and snorkeling. Keep your eyes peeled for sea turtles, parrotfish, spiny urchins, sea fans, and yes – our namesake, manta rays.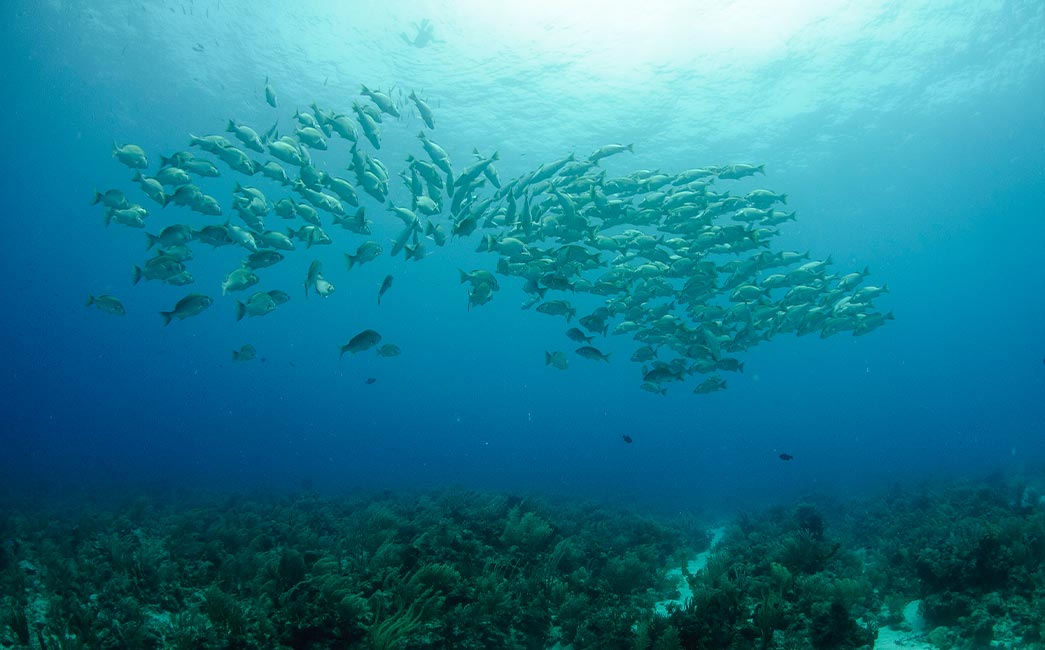 The Caribbean is a tropical oasis for intrepid travelers searching for stunning landscapes and unparalleled experiences. The sea is tepid and crystal clear year round, brimming with lovely marine life including dolphins, whale sharks, rays, sea turtles, manatees and rainbow-colored tropical fish. The Caribbean is the perfect vacation destination for everyone.
Belize is a haven for over 500 species of beautiful birds. One of the top places to visit in Belize is Glover's Reef Atoll. Here, birders will spot a variety of birds including the brown pelican, the white tailed tropicbird, the red footed booby, and the magnificent frigate bird. Interestingly, these birds help the local fishermen to locate good fishing spots in the area.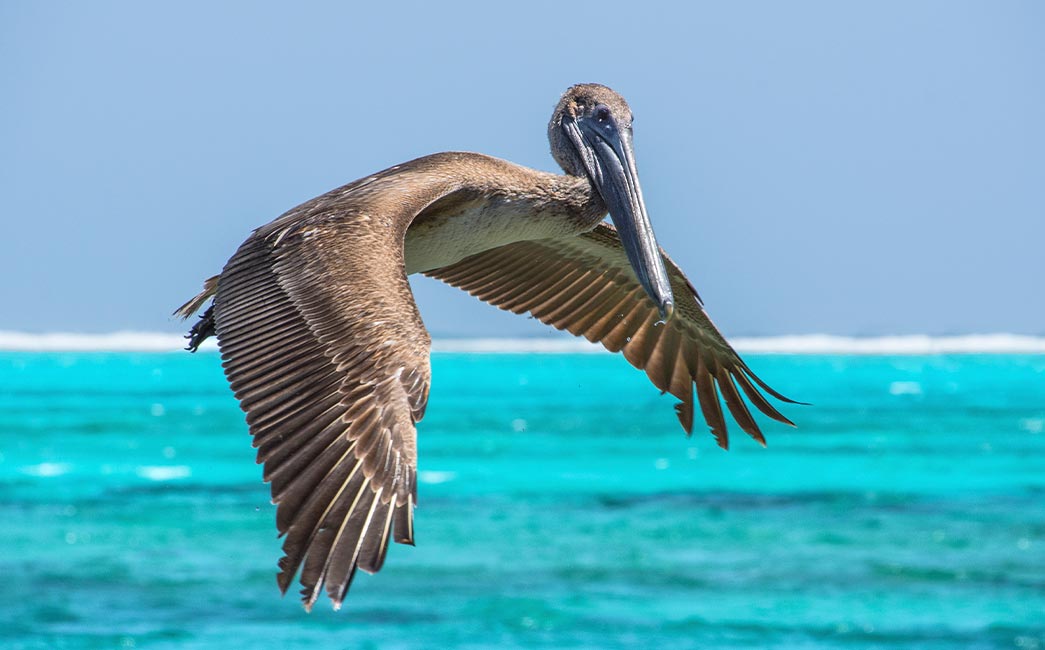 Reservation Office Hours​
CENTRAL STANDARD TIME
Mon to Fri: 8am – 5pm
Sat: 8am – 12pm
Sun: Closed
Kindly Note:  We do not observe Daylight Saving Time, so when others spring forward one hour, we stay put.
Hear What Travelers Are Saying About Our Collection of Resorts
"The rooms, beaches, exclusivity, food, drinks, and service were all top notch. The staff also takes care of all the logistics to/from Belize City airport which was very refreshing and convenient. Most of all, Manta provides an unforgettable experience with it's location and views."