Could there be a better resource for learning about the formation of coral reefs minus the scientific lingo than the National Ocean Service? This agency is one of the most important research arms of the National Oceanic and Atmospheric Administration (NOAA), where both the past and the future are studied so remarkable natural formations are around for future generations.
Magnificent reefs like the one sprawling along the Belize coastline are technically "built" when "free-swimming coral larvae attach to submerged rocks or other hard surfaces along the edges of islands or continents," say NOAA scientists. Over time, corals grow and expand, morphing into one of three types of the reef at maturity: fringing, barrier, or atoll.
It can take up to 10,000 years for a reef to form once that first larvae attachment takes place and another 100,000 to 300,000 years to reach maturity. If you weren't impressed before reading this, you probably are now. The Belize Barrier Reef is the second-longest on the planet and a true Western Hemisphere marvel.
Visit the only barrier reef in this hemisphere
Belize airline flights take little time to reach the country, and a few hours later, you could be seeing this natural wonder from a vantage point close to Manta, Belize's premier private island resort that pairs off-grid luxury with tropical splendor. This is a vacation opportunity you won't want to miss.
Perched atop Glover's Reef Atoll, Manta Island Resort offers guests opportunities to see the barrier reef, and to vacation on a reef, too. Visitors enjoy myriad aquatic activities, many of which are included with the Belize All Inclusive Package. Additional à la carte adventures are on the resort's menu, too.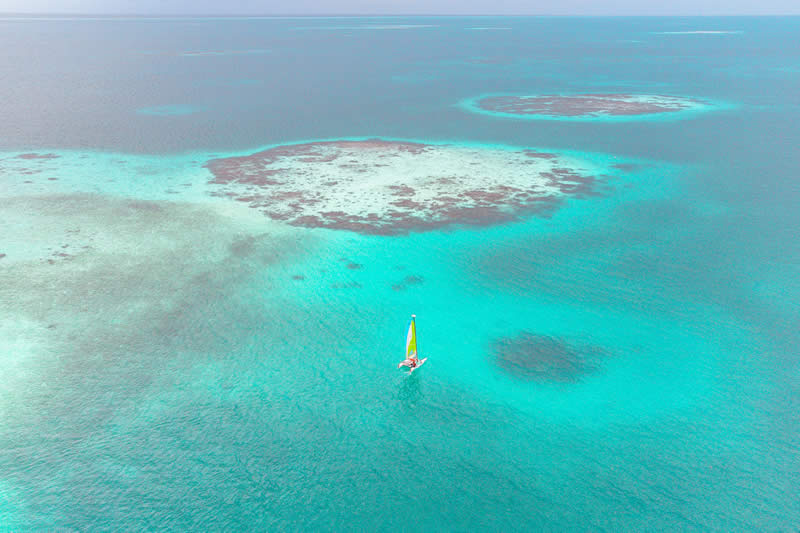 Join the reef's fan club for the solitude you crave
There are reasons Tiger Woods, Charlize Theron, Leonardo DiCaprio, Lennox Lewis, Bill Gates, and Frances Ford Coppola have made Belize their go-to destination when they crave privacy and bought property in Belize: Access to the reef in addition to avoiding crowds. Who doesn't covet the sort of privacy and relaxation only found on a small offshore island?
Surprisingly affordable Belize vacation packages include everything you need to feel like a celebrity. A private oceanfront cabana. Delicious meals and unlimited local alcoholic drinks. Transport to and from the Belize International Airport on arrival and departure days. Once you arrive, unlimited water sports activities await plus a group snorkeling trip.
There's more to recommend a stay at Manta Island Resort
A group island-hopping tour comes with the 7-day package, but whether you make it a 4-day stay or a 7-day sojourn, count on staff catering to your every wish. À la carte adventures can be added for those eager to explore more of Belize. If you thought this opportunity couldn't possibly be improved, there's a Belize vacation special associated with the all-inclusive package that can save you more money.
As you can probably imagine, this deal is getting lots of buzz, likely because the reservation deadline is close. Will you be among the fortunate few to save money while taking advantage of the opportunity to see this remarkable natural wonder that took thousands of years to create?
Call or email our Reservations office today!
(800) 408-8224
info@MantaIslandResort.com
www.MantaIslandResort.com