December is snorkeling and diving paradise. Wildlife watchers glimpse Red-footed boobies, sharks, and rays. It's a holiday trip you'll never forget.
January delivers temperatures ranging from 75-to-78 degrees F. Migratory birds like hummingbirds, terns, tanagers, and warblers arrive from the north, and Scarlet macaws show up at their feeding grounds.
February is the month for a Valentine's Day escape. Book a romantic escape to Manta Island Resort in February to reconnect with your special someone.
March is the start of the cashew harvest, as diving and snorkeling continue unabated. Rainforest wildlife are easy to spot, and whale shark season begins.
April is a fisherman's delight, offering flats, ocean, lagoon, and river action. Seas are calm; temperatures are moderate. Spot manatees this month. These gentle giants are shy but be patient and you'll be rewarded. Add a fishing tour to your vacation!
May marks Grand Slam fishing season. If your dream to catch Permit, Bonefish, and Tarpon is not yet realized, this is your month. Spot wading birds, loggerhead turtles, and full moons are great for whale shark spotting.
June may launch rainy season but brief showers won't dampen your enthusiasm as lobster season begins. No Caribbean destination surpasses Belize's Lobsterfest.
July in Belize offers visitors fabulous deals and savings. Rain showers rarely discourage visitors. In addition to myriad aquatic activities, jungles and rainforests are filled with wildlife.
August is known for low seasonal rates, fewer crowds, and opportunities to fish, snorkel, and dive. Birds continue to hang around; you could spot up to 570 species during your stay.
September is awash in celebrations including Carnival, and Belize Independence Day (September 21st). Wildlife spotting, few crowds, and moderate temperatures make this month an ideal choice.
October it time for the annual Belize Birding Festival. Mild temperatures, affordable rates plus an abundance of fish due to Grouper mating season are all reasons to come in October.
You're invited to celebrate Garifuna Settlement Day on November 19th. North Americans eager to escape Thanksgiving meal prep know that the friendliest people in Central America love to do the cooking, so why not book your family at Manta Island in November!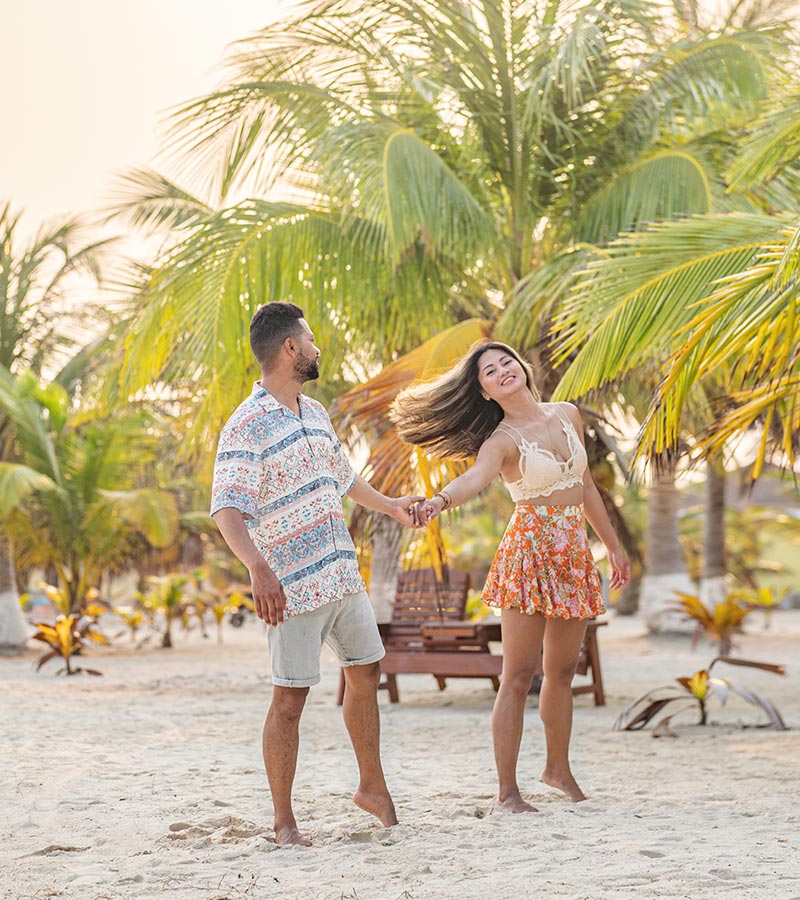 Twelve months. One idyllic island
Given the year-round emphasis on aquatic sporting activities, visitors to Belize couldn't find a more appealing place to sojourn than on an island, but Manta Island Resort is no ordinary island. It's an atoll shaped when the earth formed and there is no bad time to visit.
Every activity detailed above is available to guests, yet this is no "primitive" property. Expect gorgeous digs, Caribbean cuisine, world-class service, and extras only found at a resort that takes pride in its numerous awards.
Whether you're ready to pack or you're planning for 2024, Manta awaits your visit—be that as a couple or with your family, where a customized Belize All Inclusive Package and add-ons welcome you. Want to travel right now? You're in luck. Save money on your November or December getaway and you'll be even more delighted!
Call or email our Reservations office today!
(800) 408-8224
info@MantaIslandResort.com
www.MantaIslandResort.com