Where do you seek travel help? Do you call Uncle Bill whose world travels have earned him the position of all-knowing sage? Perhaps there's a travel agent on your speed dial who knows exactly what you seek when it's vacation time. Maybe you're an inveterate Internet surfer whose cyberspace acuity never lets you down.
Let's face it, there is no shortage of ways to find travel advice, but one of the most respected is Tripadvisor, and for reasons that impress. Research into this authority's sphere of influence is staggering. Tripadvisor has 490 million monthly active users, ranks #1 in tourism and travel platforms, and hosts 7,000 new posts hourly.
Given this impressive resume, being acknowledged by Tripadvisor is a feather in the cap of any hotel, resort, restaurant, and attraction—reason enough for popping champagne corks at Belize's Manta Island Resort when staff got the news that this gorgeous property was named #8 on Tripadvisor's Hottest New Hotels in the World list.
It's an atoll. It's a resort. It's a jewel.
Manta Island Resort is but one of only four atolls situated off the Central American coast. It's a lush spot of coral dotted with greenery that's both an elegant resort and a nationally protected sanctuary that hosts few guests at any time. Far enough away from the southern Belize coast (36 miles) to leave the world behind and posh enough to host celebs – this pairing of beauty and impeccable service couldn't help but impress Tripadvisor seeking to name the Hottest New Hotels in the World.
What does a vacationer find at Manta Island that attests to its 8th place amid a globe filled with endless candidates for recognition? Nine artfully spaced private oceanfront cabanas and three two-bedroom reef villas can be apportioned to suit travel parties.
Despite catering to so few guests, no nuance is left to chance. Suite interiors are beautifully appointed, creative resort chefs oversee the preparation of meals that are so delicious, plates could easily compete with the globe's top eateries, and the resort's Belize all-inclusive package options are terrific.
…Yet it's the service guests receive that blow world travelers away!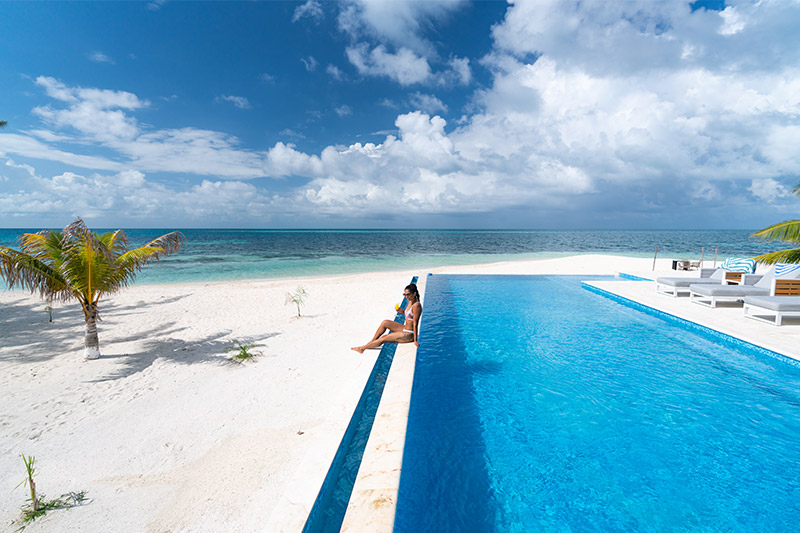 Is it hard to look after a small number of guests? Hardly, say Manta Island staffers who are aiming for the #1 position on that Tripadvisor Hot Hotel of the World ranking. Decadent plunge pools adjacent to digs, boat transfers to and from the island, unlimited local beverages, access to water sporting activities, and a blissful break from the crowds and queues are exactly what guests seek. Since the staff-to-guest ratio is impressive, count on your needs, wishes, and requests being honored promptly.
Given so exclusive an atmosphere, guests are surprised to discover that there is the occasional special deal associated with a stay, yet another reason that the #8 position was so easily filled by Tripadvisor analysts who peek into every corner before making their annual "Hottest Hotels in the World" picks. After all, who deserves celebrity treatment more than you do?
Call or email our Reservations office today!
(800) 408-8224
info@MantaIslandResort.com
www.MantaIslandResort.com