Planning a wedding is not easy these days, as traditions and customs change often enough to allow couples to be more creative. Vogue magazine outlines some of the major trends being adopted by couples in 2023, including prioritizing receptions over highly-formal religious ceremonies, mid-day affairs during the week, retro gowns that borrow from the past, and quirky festivities like beach soccer matches that pit guests against each other as champagne is poured and hors d'oeuvres are passed!
Don't despair. Some customs never disappear—like the return of extravagant wedding cakes, including family pets in the wedding party and parents walking brides and grooms down the aisle, so if you conclude that 2023 is expected to see a continuation of a delicate balance of old and new, you're right.
Honeymoons? For romantics, certain destinations will always be their first choice, like castles, estates, and especially island getaways. Celebrities love islands because they're so private and lush. You probably agree, especially when you learn that an island honeymoon may be more affordable than you imagine—if you pick the right island.
Must you declare bankruptcy to afford an island honeymoon?
North American couples are fortunate to have Central American ports as neighbors and as the years have passed, Belize has acquired a reputation for hosting eagerly awaited honeymoons chosen for short plane rides and a friendly, English-speaking citizenry.
It helps that Belize is home to 450+ islands (called cays), which means possibilities are endless. Unless you plan to pitch a tent on one of these islands during your honeymoon, you two will want to be pampered while enjoying levels of privacy and intimacy that are the sweetest aspects of post-wedding getaways.
Ask couples who have honeymooned at Manta Island Resort about their experiences and prepare for lengthy, glowing reviews that are especially enthusiastic during low season when the per-couple package is at its most affordable between May 30th and December 18th. Sound like the honeymoon of your dreams? Don't stop reading. There's an extra incentive we'll reveal below!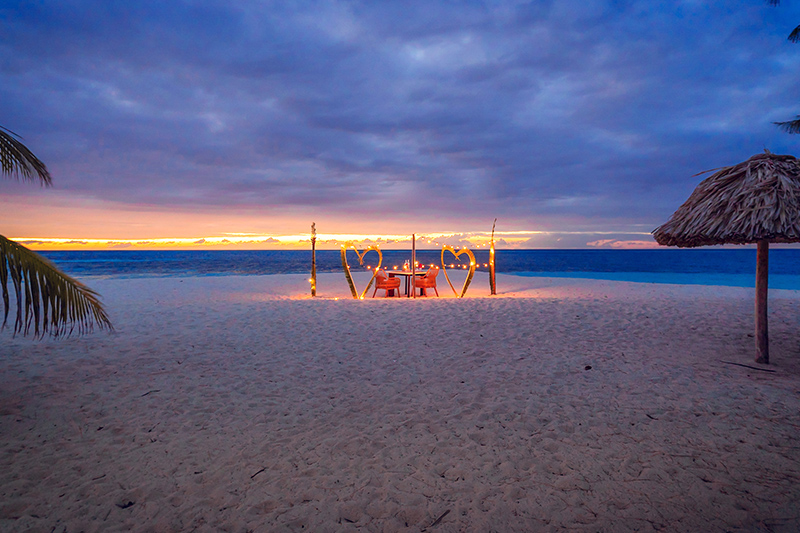 You won't find deals like this on island honeymoons elsewhere
If you've already shopped for reception venues, and invitations, and asked your besties to witness your marriage that is scheduled to be held between June 1, 2023, and October 30, 2023, the presents you acquire from friends and family won't be the only gifts you receive. Manta Island Resort's Honeymoon and Romance Add-On is all yours gratis (a $300 USD value) if you reserve your getaway immediately.
Why the rush? Limited guest capacity means bookings fill fast, so if you want to grab this 4+ night stay, you'll enjoy a private sunset cruise, candlelight dinner with wine, and nightly turn-down service—all on the house if you make Manta Island your honeymoon haven.
Already picked your 2023 wedding date? If it fits within this special's limited range of dates, you get the island experience that you crave, the privacy that makes your sojourn idyllic, and extras that will be the envy of your friends at home, who are likely spending far more than you are for their festivities!
Call or email our Reservations office today!
(800) 408-8224
info@MantaIslandResort.com
www.MantaIslandResort.com