As the global hospitality industry recovers from COVID, hotels, and resorts are taking a fresh look at what guests want and need from their getaways. To identify trends more closely, folks at Cvent.com undertook research into "guest types," suggesting that one of the best ways to attract more guests is to create guest experiences that appeal to each group. Toward this end, blogger Megan Boley identified these unique travel groups by categorizing them:
Business travelers (all ages)
Boomers (ages 58 to 76)
Millennials (ages 21 to 41)
Gen Z (ages 10 to 25)
Families (all ages)
Health and wellness travelers (all ages).
Given this much age, interest, and vacation objective diversity, can one destination be all things to all travelers? That depends upon the place you pick and the people who run it, say frequent Manta Island Resort guests where folks of all ages find exactly what they crave in a Caribbean vacation. Importantly, this Belize island resort understands the importance of delivering a worry-free experience, thus all inclusive packages relieve guests of the burden of decision-making so they can pursue their favorite activities.
No matter your age or interests, Manta Island has you covered
Having decided on the ideal package, you can spend the entirety of your stay on the go, indulge your inner sloth, or find your pleasure somewhere in the middle. Since you'll be sojourning on an atoll that is both a world heritage site and a marine reserve, expect to encounter regional treasures that range from marine wildlife to diverse coral foundations that underpin area reefs.
Further, you'll be 36 miles off Belize's "gold coast" (Dangriga to Placencia), so you can fill your itinerary with everything your time in-country allows.
Browse Manta Island Resort amenities and you'll wonder how a resort this small can offer so much variety. Sample the smorgasbord of Belize tour options that allow you to customize your stay to suit your desires and don't forget spa services that you may find essential if you choose a particularly hectic itinerary.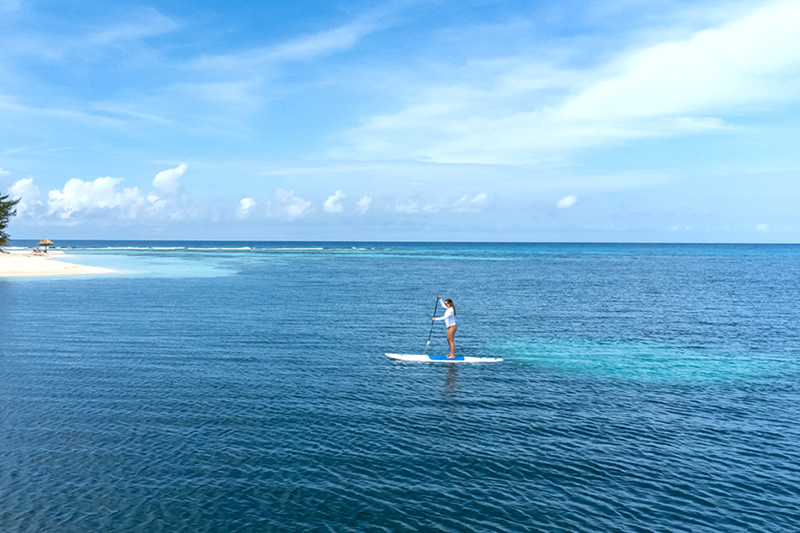 All this and money savings, too?
Having browsed the Manta Island Resort website in depth to verify the fact that this island caters to every guest's interests and desires no matter which category they fall into, you may worry about what sort of damage this tropical oasis can do to your budget. Worry no more. Schedule a getaway between now and December 18, 2022, and you could get a deal on an all inclusive package that is so compelling you'll want to know more.
Mention CODE 80/20Deal when you book and you could be eligible for a per-night discount of $80USD. You don't have much time to take advantage of this special as time is fleeting and bookings are increasing, so visit the Belize Vacation Specials page immediately and everything you seek in a customized, idyllic getaway matching your desires is confirmed and you and your travel partner(s) can start shopping for sunscreen!
Call or email our Reservations office today!
(800) 408-8224
info@MantaIslandResort.com
www.MantaIslandResort.com