Want to break the ice when you talk to a bunch of travelers who aren't sharing? Introduce the subject of vacations ruined by crowds and you may not be able to shut down the conversation! It happens to even the most intrepid travelers; tales of spending months choreographing getaways to the Caribbean, only to arrive to find long lines and crowds at attractions that turn a pleasurable holiday into a stressful one.
If you've been reading articles in preparation for your next travel adventure and found no guarantees that you won't find yourself amid too much humanity, turn to the one guaranteed way to avoid the frustration crowds provoke: Choose a destination where long lines, harried staff, and lodging snafus never occur. Belize's Manta Island Resort is always crowd-free so guests enjoy a vacation that never disappoints. This intimate island is too small to accommodate a crowd, a reassurance likely to thrill you.
The ultimate crowd-free getaway
Manta Island Resort is situated on Belize's Glover's Reef Atoll, an ancient, circular parcel of land formed by lava bubbling up from underwater volcanos. Atop the dried magma, all manner of marine life contributed to the creation of this rugged ring that's 36 miles off Belize's coast.
Even the topography is unique. It's one of only three atolls off the Central American coast, and guests seeking a crowd-free sojourn find more than one reason to celebrate an absence of crowds: this atoll is both a designated World Wildlife Fund site and a UNESCO World Heritage site, thus crowds are restricted to protect Glover Reef's ecological health.
Happily, Manta Island Resort is as magical and accommodating as it is blissfully quiet. The Resort is a wonderland of peace and tranquility where limited numbers of guests are treated to either 4- or 7-night All-Inclusive Package plus imaginative à la carte add-ons that cover every aspect of a sojourn in paradise. Guests immerse themselves in onsite activities and count on resort staff for tours that cover a dreamer's list of "must-dos in the Caribbean."
Among these options are snorkeling, fishing, diving, island-hopping, romantic cruises, and in-room spa services. This is the quintessentially intimate vacation venue that travelers search for but don't always find despite colorful brochures and promises.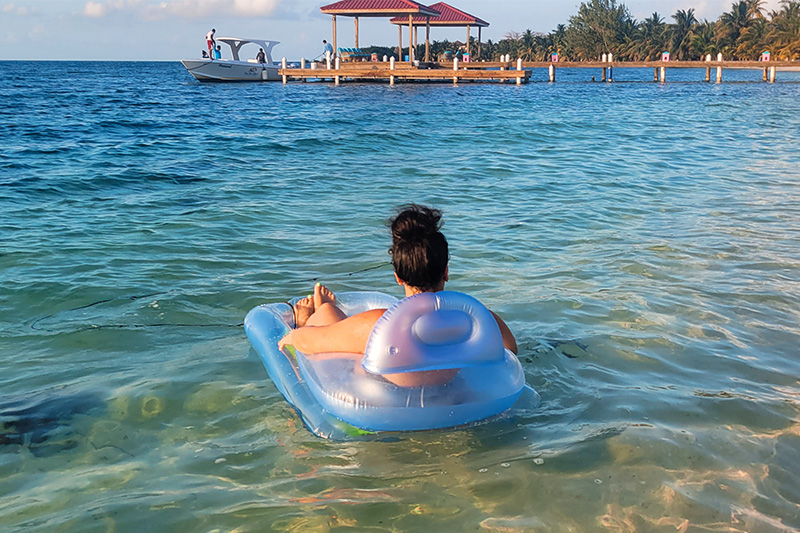 Icing on the cake
In addition to being on an atoll created over millennia before popping up to the surface to form this idyllic destination—and in addition to the lack of crowds and money-saving packages that may already have convinced you to visit—find nirvana via Manta Island Resort specials that will make you just as happy as you were to learn that there is a place among Caribbean waters where crowds are never encountered.
These specials come with specific parameters that you must meet, but if you can time your holiday getaway adroitly, either of the two current options could be yours. Save money. Enjoy the solitude. Revel in personalized services not found at resorts more interested in numbers than guest satisfaction!
Call or email our Reservations office today!
(800) 408-8224
info@MantaIslandResort.com
www.MantaIslandResort.com