You and your gal pals have talked endlessly about a girl's getaway, but that chatter is as far as you have gotten. Why not make 2023 the year you stop talking and start planning? You deserve a break via an opportunity to be surrounded by your besties away from the rest of the world where you can let your hair down and have fun.
Why not plan the ultimate retreat on a Caribbean island that's so intimate, you are likely to feel like you're the only guests? Once deposited on the dock at Manta Island Resort off the Belize coastline, you can engineer a personalized experience working with resort staff that will be the envy of women outside your circle of girlfriends.
Why Manta Island Resort Hosts the Ideal Girls Getaway
Aside from the island's small size—which guarantees an absence of crowds—, this resort was designed with overworked women in mind, thus everything you require for the ultimate girlfriend retreat (and more) minus the responsibilities is included. How to turn this Manta Island dream into reality? Here's your 5-step game plan:
1. Take advantage of post-year-end holiday airline price breaks, say experts. Surprisingly, January and February are the best times to book flights, and since service to Belize has been fully restored, you'll have your choice of carriers.
2. Contact island staffers to negotiate a group all-inclusive package rate so everything about your sojourn is covered up front. If your 2023 girlfriend trip can only be scheduled between May 30th and December 18th, you'll find that package rates are the lowest.
3. Count on amenities you seek and those you don't expect. In addition to private oceanfront digs for the duration of your stay, local round-trip transport to the island is included, as are meals and unlimited local bar beverages. The tour menu is filled with opportunities and you'll enjoy complimentary Wi-Fi, kayaks, snorkel gear, stand-up paddleboards, a catamaran, plus an endless beach surrounding the island.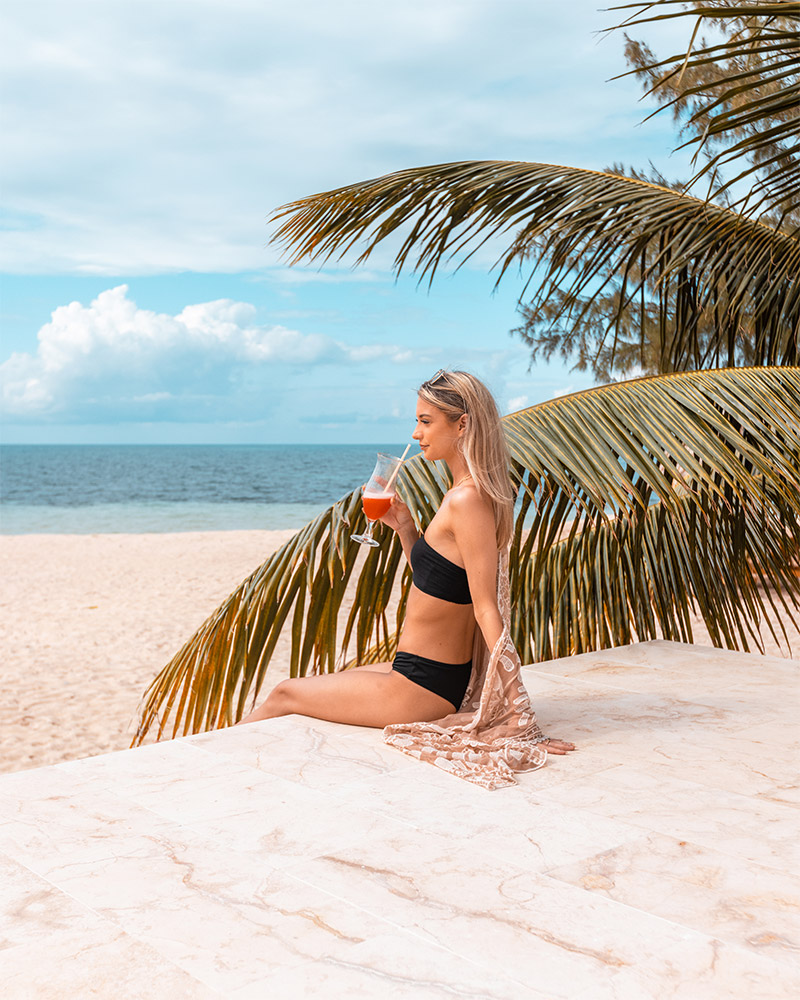 4. Use the resort's a la carte and add-ons menu to satisfy individual desires for tours, and if your group can snag the resort's current special based on availability, you could pull off the ultimate girl's getaway of your dreams and save more money, too.
5. What to bring? Molly's complementary packing list offers you plenty of suggestions. You don't have to include everything, but if you share the list with your gal pals, they'll thank you big time—both for this packing advice and for spearheading this adventure. You can also reach out the Manta reservation team for their recommended packing list.
Girlfriend vacations at Manta Island do more than just transport participants to a wonderland of relaxation and fun. They help tighten bonds with the women you rely upon most often, and even the shortest sojourn will lower the stress levels every modern woman carries around. Stop talking. Start moving. Next time you get together, bring up this idea. You may be surprised by how fast posse members says "Yes!"
Call or email our Reservations office today!
(800) 408-8224
info@MantaIslandResort.com
www.MantaIslandResort.com