Every year, the Islands.com website asks site visitors to rate their favorite destinations and while island locations shift from one place to another, one statistic remains consistent: 80% of people who vacation on islands dream about moving to them permanently! Their feelings are understandable given a world in disarray.
Of that audience, 60% prefer the Caribbean over other oceans and if you have dreamed about moving to an island, the best way to see if it's a perfect fit for you is to vacation on one so you can experience how it feels when the boat transporting you from the mainland deposits you on landscape awash in beaches and palm trees.
Choose an island that is so close to North America that you can arrive in Belize in just a few hours and step foot on a beach in just a few more. At Manta Island Resort, repeat visitors rave about the off-grid luxury that greets them from the moment they arrive and are handed a cooling beverage by an island host. You'll feel like a celebrity!
Why Manta Island Resort is in a class of its own
Some offshore Belize islands are flat parcels of land surrounded by beaches and pristine shorelines while Manta Island is classified as an atoll, one of only four in the Western Hemisphere. This rugged, topographically diverse terrain is an enchanting ring of coral that's about 52 miles in circumference that wraps around a languid lagoon.
Located 36 miles off Belize's southern coast, that distance may as well be 3600 miles away because, from the moment you arrive, you'll feel as though you're in a distant world. It's quiet. Tranquil. Calming. But the best is yet to come when you are escorted to your lodgings because they are a study in contradiction to the all-natural landscape that surrounds you.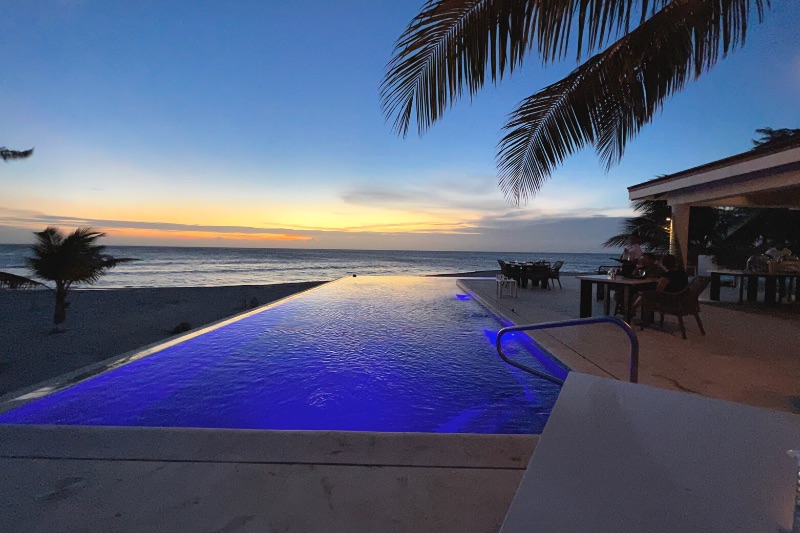 Accommodations are so spacious…
…one luxe 2-bedroom reef villa features a full kitchen, living room, dining room, two bedrooms and a private plunge pool. Smaller digs are equally spacious, so no matter which suits your fancy, you won't be disappointed.
Don't plan to spend much time in your digs. Aquatic adventures you dream about are all on the Manta Island menu and Manta Island Resort's onsite restaurant offers guests amazing dining experiences. From the freshest seafood to locally grown produce, a locally stocked bar, and attentive staff, chefs are delighted to honor special meal requests with advance notice so plan to dine like a celebrity, too.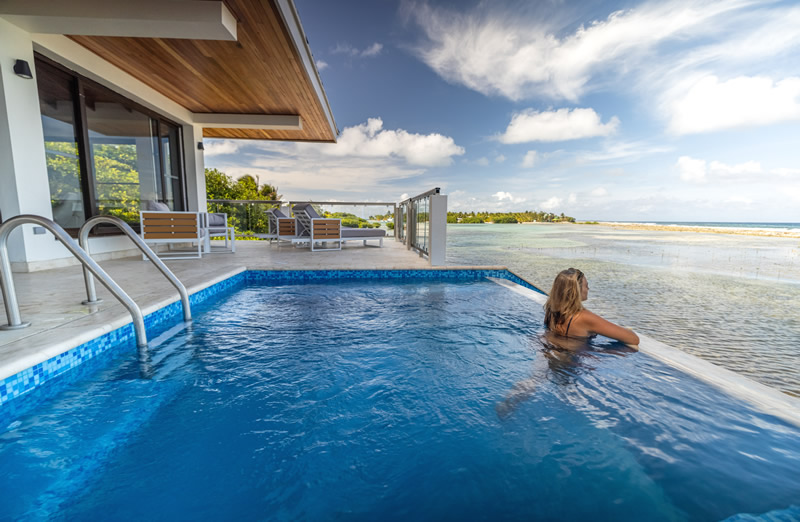 The money-saving special you can't afford to turn down
Who doesn't love to save money? Manta Island's all-inclusive packages save enough to justify an extended island stay. These bundles cover all expenses so you can leave your wallet in your suitcase unless you decide to add more tours to your itinerary.
Additionally, this Belize vacation special can be yours by reserving a stay between now and February 12th, 2023–as long as there is availability on dates you prefer. But in order to be accommodated at this small resort, you must book before this offer expires. If you are looking for an excuse to experience island living in Belize at its most relaxing, you've just found it!
Call or email our Reservations office today!
(800) 408-8224
info@MantaIslandResort.com
www.MantaIslandResort.com