Are you searching the Internet for travel information? Don't be surprised if you run into destination-related articles offering to give you the good, bad, and ugly about destinations you're considering. Among the most often cited negatives on bad and ugly lists are crowds. We've yet to meet a tourist who enthuses, "The more crowds, the better I like it!" Feel the same way? Keep these 3 tips in mind when booking your next escape. 
Travel during the low season. Both are ideal choices for tourists eager to avoid crowds. You'll also get price reductions, and more lodging choices and you'll experience fewer lines at attractions, shorter restaurant queues, and fewer harried parents wrangling kids. Manta's low season runs from May 30th through December 18th.

Reserve accommodations after applying due diligence to your search for the ideal resort or hotel. Buy tickets for attractions in advance, too. Avoid the tedious process of making individual decisions about your stay by choosing an all-inclusive package that includes meals, lodgings, tours, and every extra you seek.

 

Do your homework. Devote time to the sort of research that gives you a leg up on environs, proper clothing, currency exchange rates, and tips on times of day you'll be less likely to run into crowds. Bloggers are especially resourceful when it comes to reporting on crowd sizes. Ask your friendly Manta reservation specialist for tips too!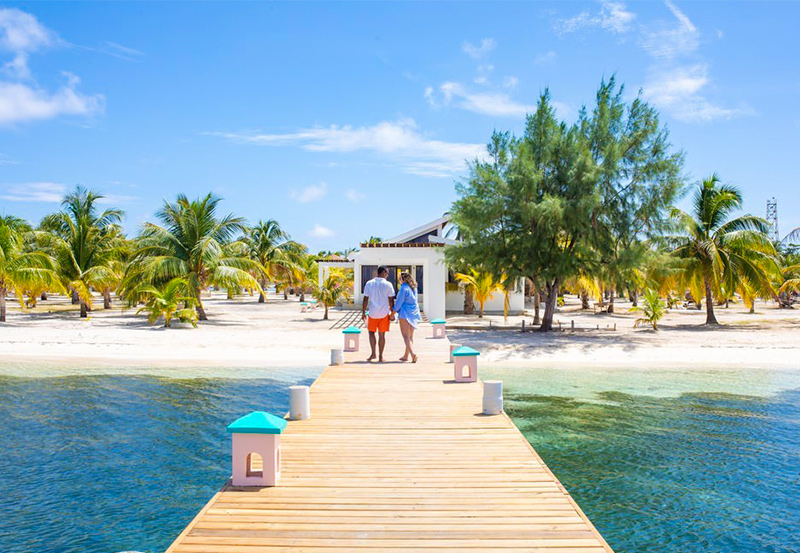 Go to the place crowds don't exist
Make your Caribbean destination Belize, and choose a place that's guaranteed to delight you, meet all three criteria, and send you home in such a state of bliss, you'll wonder why you never thought of this before. You're the ideal candidate for an offshore sojourn at the Manta Island Resort. This 12-acre sanctuary of peace is always crowd-free. 
Situated on Glover's Reef, a pristine marine reserve and world heritage site that is surrounded by a beachfront kissed by Caribbean Sea waves, this haven couldn't host a crowd if it tried. There are only 9 oceanfront cabanas and 3 villas on the island, so not only will you find serenity and peace, but you'll understand why a 2022 Tripadvisor Travelers poll named Manta Island Resort one of the hottest new hotels on Earth. 
No shortage of delights on the island
Having purposefully escaped civilization, you can design a stay to match your proclivities via Belize all inclusive packages that deliver on variety, service, and the amenities you expect from a world-class resort dedicated to guest pleasure. If you've never met an aquatic sport that didn't suit your fancy, you'll liken Manta Island to paradise on earth. An island filled with delights and no crowds? You've found it just a few hours south of the U.S. and a million miles away from the stressors plaguing your days and nights!
Call or email our Reservations office today!
(800) 408-8224
info@MantaIslandResort.com
www.MantaIslandResort.com