Are you the go-to person in your circle known for making the impossible possible? It's an important job since the world is changing at a meteoric pace. Since Covid interrupted life as we knew it, things have changed dramatically – especially if you're the person folks rely upon for planning family reunions and get-togethers that require immense amounts of space to stage.
Your solution? Rent an entire island. It's as simple as picking a date and getting in touch with staff at Manta Island Resort. If you've been shopping venues in the U.S. and found that the cost of hosting your event is over the top, Manta Island Resort could cost less than those North American venues, and who wouldn't prefer an island reserved for a party as large as 18 guests?
About Manta Island Resort
Can you imagine what it would be like to have an entire island, its staff and the beauty and the serenity of a private island in the Caribbean at your disposal? Manta Island's rental package includes everything groups require at a single package price that can be split by attendees who never imagined their venue could be this exotic and unique.
Located at the southernmost tip of Glover's Atoll, a national heritage site, the island is only 12 square acres in size but the benefits of renting the island for your crowd will make Manta seem much larger. You'll get exclusive access to nine oceanfront cabanas, each of which is beautifully appointed and the epitome of privacy.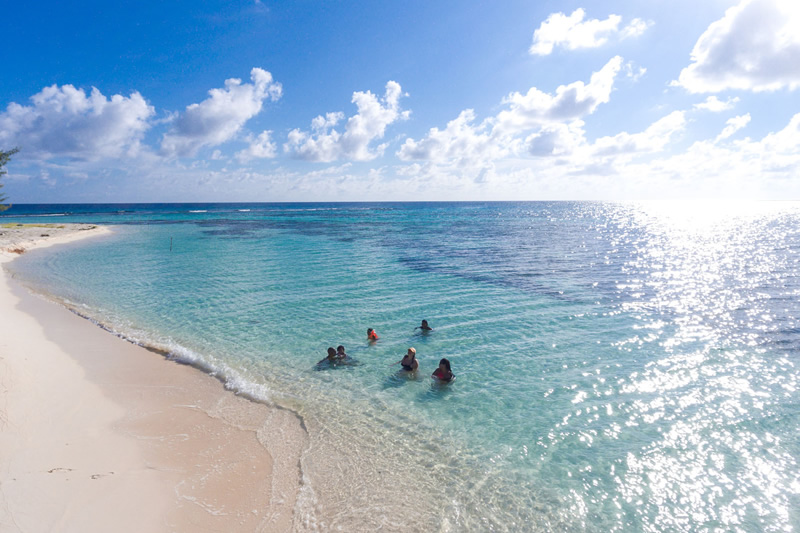 Your group's experience begins…
…when everyone is picked up from the Belize International Airport. Your passport and proof of Covid vaccination make entering the country a breeze. You'll be transported to Manta Island Resort where the island chef running the island's beachfront restaurant stands ready to prepare gourmet meals throughout your stay – even for folks with food restrictions.
When members of your party aren't sticking their feet in the sand or admiring their clean and spacious digs, guests enjoy unlimited local beverages, snorkeling excursions and access to kayaks, paddle boards and Hobie cats. You plan the itinerary. Staff stands ready to help you make everything go smoothly and efficiently.
Customize your island experience
The island is yours to enjoy as you please, so consider yourselves royalty; island visitors who have no rules – with the exception of everyone staying safe and having a blast. Need ideas for how you can structure your stay? Start by deciding whether your stay is all about R&R or whether adventures are everyone's priority.
Ask staffers about the island's tour menu. If your group wants to do something special, let them know. For folks who have no wish beyond roaming the island, canoodling with a partner and taking advantage of water toys, your wish is their command.
Start here to request a quote for your group. The gathering of a lifetime will make you wildly popular with attendees, so prepare for compliments!

Call or email our Reservations office today!
(800) 408-8224
info@MantaIslandResort.com
www.MantaIslandResort.com