Few U.S. medical schools are as well-respected as Maryland's Johns Hopkins, so when the school's website broached the topic of social and physical distancing, doctors defined the practice as part of a series of COVID-related posts, offering fresh insights on the topic.
As news of variants spread, not only has it become more important than ever to take precautions, but you need a vacation – and you need one badly after managing to get through 2021! Could we interest you in a Belize vacation on a private island where you'll see more fish than guests – and stay safer, too?
Referring to the Tourism Gold Standard designation awarded only to resorts, attractions, and venues willing to take extraordinary measures to keep guests safe, Belize could easily serve as the world's role model for how to social distance. For this reason and more, consider putting lots of distance between yourself and others by coming to Manta Island Resort, a bit of heaven just off the coast.
No crowds and no stress
It's the ideal time to choose this 2022 naturally distanced paradise. Manta Island Resort continues to maintain stringent Gold Standard guidelines to uphold guest safety, but you probably won't spend much time worrying about Covid when you experience gorgeous environs guests rave about within the confines of this idyllic sanctuary.
Perched on Glover's Reef Atoll — a coral reef just 52 miles in circumference and 36 miles off Belize's southern coast – Manta Island hosts small numbers of guests eager to enjoy unprecedented privacy.
The ease with which you settle into this naturally distanced paradise is only surpassed by the Belize all inclusive packages that provide everything you need and want: A lovely oceanfront cabana, round trip island transfers on your arrival and departures days, guided snorkel trips, fabulous meals, unlimited local bar beverages, plus the complimentary use of kayaks, snorkel gear, stand up paddleboards plus a small Hobie Cat.
Skeptical? Don't be. View photos of this remarkable Belize island resort, and you won't need much more to convince you that you've found Valhalla just a few hours away by plane.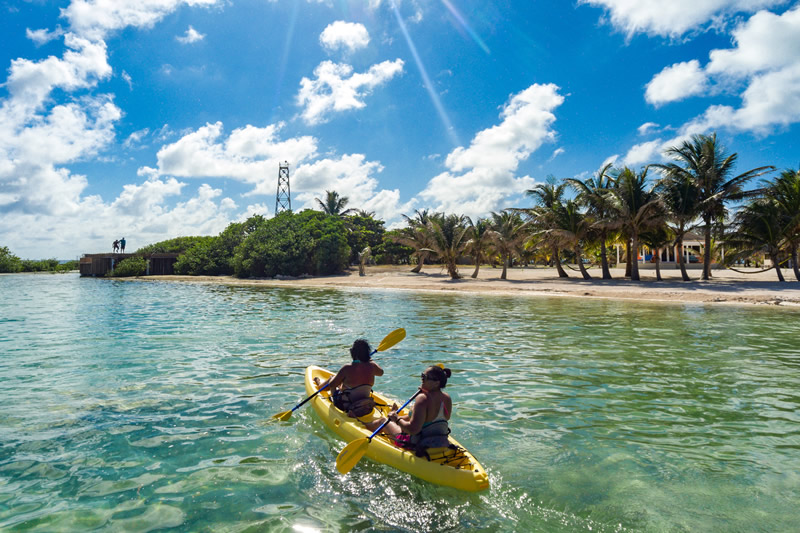 Choose the option that fits your escape plan!
Because Manta Island Resort offers complimentary Wi-Fi service, choosing between the 4- or 7-day package could be a no-brainer if you decide to make this a work/play stay. Intersperse your tasks with guided group snorkeling and island-hopping adventures and add a la carte tours or ultra-private spa services to your itinerary if you crave more.
Importantly, you'll escape from the frenetic news, views, and stress that surrounds you. If you're convinced that this naturally distanced paradise is calling your name, clear your calendar and book your stay immediately.
Reserve by January 16, 2022, and you may qualify for either a $250 or $500 discount on these Belize vacation specials that allows you to plan in advance for a vacation between now and December 18, 2022. This rare offer has already begun to spark bookings, so this is no time to hesitate!
Call or email our Reservations office today!
(800) 408-8224
info@MantaIslandResort.com
www.MantaIslandResort.com