Daily Axios newsletters report on politics and breaking news, but the online publications rarely touch on climate change. So, when editors took a closer look at the subject on September 2, 2023, they were thrilled to report that, "The ocean is making a surprising comeback." This announcement came from a consortium of marine biologists whose concerns about over-fishing, pollution, record-breaking global sea temperatures, and heatwaves have been growing.
What does that mean for avid deep-sea fishing fans? Plenty of healthy fish species await rods and reels, and if you make 2024 the year you intend to set some new personal records, there's only one destination worth considering: Belize. Year-round weather at this epicenter of sport fishing is idyllic and visitors enjoy more than thrills; you could snag photo-worthy snaps of you catching barracuda, tarpon, bonefish, and more.
The Big Three
Interested in bonefish? You're in luck. Bonefish and Belize are made for each other since this fish is in season year-round, though optimal catch times are December through March. That means you've still got time to pursue your dream before 2023 ends.
Dreaming of tarpon? All you need is the right bait and guide since, according to frequent visitors, tarpon "will eat just about anything when they are hungry and on the hunt." Plan your Belize visit for late spring or early summer months (especially April and May), and you too can participate in the hunt.
Ready for barracuda? Game fish royalty and barracudas are popular, underrated, and a huge challenge to catch, but nab one and you'll be hailed a hero by envious spectators. Reef Conservation International points to barracuda's "fearful reputation," but if you're ready to tangle with them, December through February are your best bets.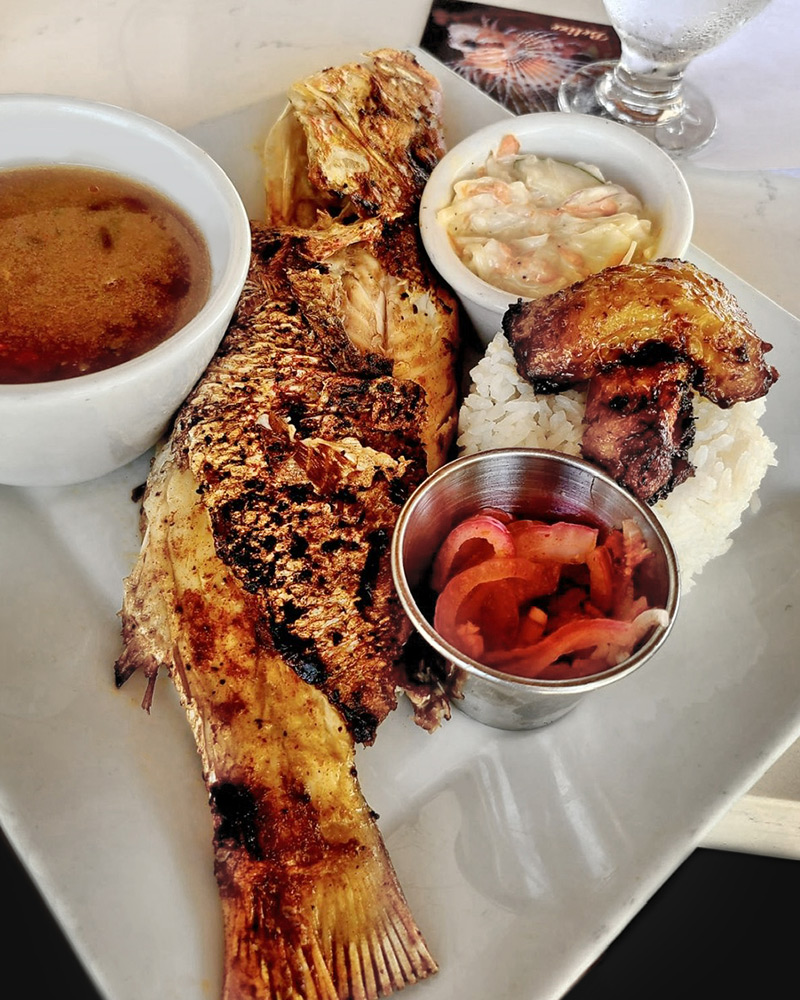 Stay where you play
What better base camp can a fishing fanatic ask for than a tropical atoll in the middle of the action? At Manta Island Resort, off Belize's Coast, you will not only share this 12-acre paradise with a small number of other guests, but you can focus your attention on your sport fishing objective thanks to the all-inclusive package that covers all details of your stay.
Listed among the "Hottest New Hotels in the World in 2022" by TripAdvisor Travelers, your stay on Manta will be super luxurious, and you can choose a variety of add-ons that customize every aspect of your sojourn. Importantly, Manta Island Resort hosts know that your priority is fishing. To prove it, browse the resort's Fly-Fishing website page. Like what you see?
The ocean calls and Manta Island Resort answers by offering you everything you could ask for in an ocean fishing vacation. Short of asking your favorite fish to jump into the boat you'll board to get the next thrill of a lifetime, luck is on your side—and your tour guide knows exactly where to go and what to do when you get there, likely making this the most productive and brag-worthy fishing adventure you've ever taken!
Call or email our Reservations office today!
(800) 408-8224
info@MantaIslandResort.com
www.MantaIslandResort.com