What a difference a few months have made! Six months ago, the world was on lockdown, mask making had become a growth industry and travel remained too dangerous for many people to consider.
Belize, at the forefront of innovation, became a beacon of light for folks willing to risk short-distance holiday trips to a nation that quickly became known for its cautionary protocols that created a Gold Standard of health and hygiene measures put into place to protect travelers' health.
By November 2021, people desperate to escape celebrated news that airlines were re-instituting Belize flights. Since then, non-stop flights have increased exponentially. Today, United, American, Delta, Alaska, Westjet, Copa, Sun Country, Southwest, and Frontier Airlines all maintain regular Belize schedules.
Changes you need to know
Folks who have visited Belize in the past find a mix of old and new. The Belize Barrier Reef continues to be the nation's most awe-inspiring natural wonder, myriad sporting activities secure Belize's position as the #1 Central American hub, and Covid-imposed industry cleaning and hygiene protocols remain in force.
Recently, mandatory travel insurance was introduced, and travelers admit to being floored when they learn that it costs only $18. If you're a frequent traveler, you know this amount equals a fast-food meal at a domestic airport, yet the coverage is expansive. And Belize updated its entry policy on March 1, 2022, see our COVID info page for more details.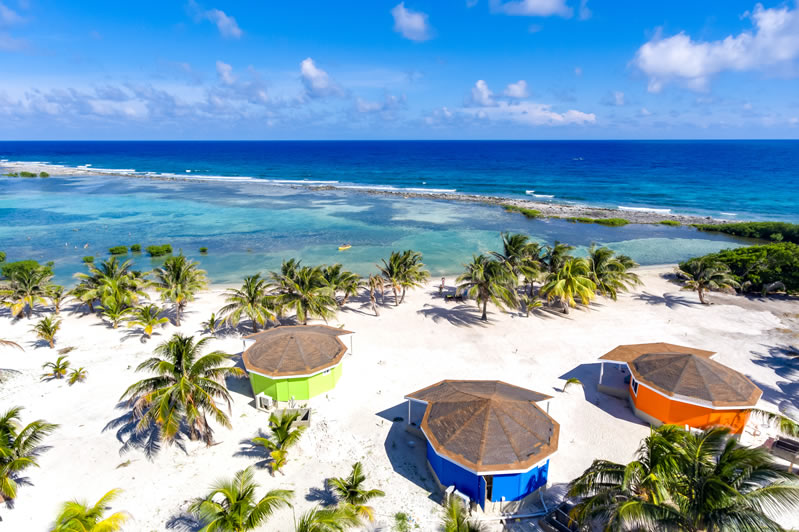 Where to stay? No brainer
"Island vibes are all we want right now!" wrote Alison Fox and Brian Major within their Travel + Leisure post of March 04, 2022! They're right on the money. The hottest 2022 Caribbean travel trends include island sojourns and Belize's Manta Island Resort stands head and shoulders above competitors.
Situated on an ancient rock island known as Glover's Reef Atoll 36 miles off the Belize coast, this destination is a nature lover's Eden that's a protected area, pairing rugged beauty with a tropical resort catering to the souls of weary travelers seeking intimacy, privacy, and an absence of crowds. Nine colorful, stand-alone oceanfront cabanas and 2 posh villas tucked into lush greenery give sojourners direct access to the beach and the peace and tranquility they crave.
Your job? Show up and relax
Manta Island packages are the ultimate perk. One upfront price entitles you to everything you require for a fabulous stay. This includes accommodations, delicious meals, mainland transfers, use of resort aquatic toys, unlimited local bar beverages, and select tours.
All inclusive Belize packages could leave you feeling overwhelmed once you see how many options you have during your sojourn, and if your timing is right, take advantage of a rare Manta Island Resort special detailed here.
Airfares are affordable and Covid recovery is palpable, so why wouldn't you act on Fox's and Major's declaration, "Island vibes are all we want right now!"? It's easy to turn your desire for a respite into action by calling the resort's toll-free number (1-800-408-8224) or contacting info@MantaIslandResort.com. Expect to feel relaxed and lighter the moment you add your travel dates to your calendar.
Call or email our Reservations office today!
(800) 408-8224
info@MantaIslandResort.com
www.MantaIslandResort.com