Is it easy for you to separate the ordinary from the extraordinary, or have you yet to contemplate the meaning of each? For example, what you consider ordinary could be seen as simply extraordinary by someone with a deep appreciation of life's precious gifts.
Can you develop a talent for seeing the extraordinary even when turmoil surrounds you? According to blogger Michelle Maros who writes for the Peaceful Mind-Peaceful Life website, it's not as hard as people imagine to develop a heightened awareness, and these tips can help you get there faster than you might imagine:
Make it a point to "be present" when it comes to your feelings ("they're the roadmap to your life").
Train yourself to look beyond the moment, especially when things go wrong.
Assiduously pursue things that excite you.
Learn to find acceptance, especially when life delivers blows.
One of the best ways to work on all of these attitude modifications? Remove yourself from the world that's stressing you out at Belize's version of Nirvana, Manta Island Resort! This is truly paradise.
An island among wannabees
If you've done research on Caribbean islands, you know that while there are plenty of them, only a few are atolls. These ring-shaped protrusions that usually circle around lagoons are truly extraordinary places if only because the once-underwater volcanos that erupt to create bodies of land from lava are miracles of creation and wonder.
What will strike you the moment you arrive at Manta Island Resort on Glover's Reef Atoll? The soothing pairing of barefoot luxury with raw beauty at this Caribbean hideaway.
Return guests use the word extraordinary to describe the Belize all-inclusive packages that cover every aspect of a stay, including a luxe oceanfront cabana, remarkable dining, unlimited local alcoholic beverages, and add-ons that ordinary resorts can't match. Sound idyllic? You'd better Belize it!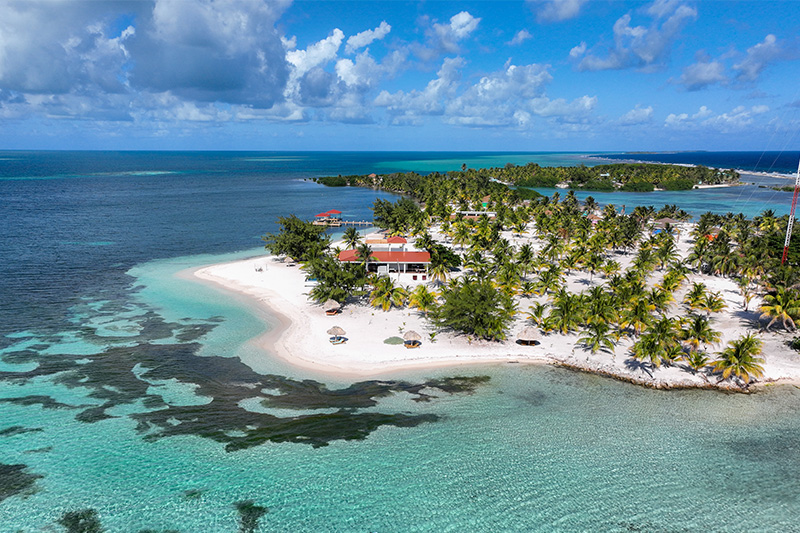 Stick around or venture forth; it's your choice
Having escaped to this fabulous resort to restore your equilibrium, you decide how you'll approach your sojourn. For folks who find peace and relief from stress by engaging in adventures, the Manta Island's tour menu is a wonder to behold, offering you opportunities to snorkel, dive, fish, and get or upgrade your dive certification.
Bring kids over the age of 8, and they can follow in your "fin steps" via specialized training just for youngsters.
If your mom always saved the best for last, we're walking in her footsteps as we let you in on this big news: Summer and Romantic specials deliver the relaxing escape you crave while also being budget-friendly. Two current deals are currently on Manta Island's menu, and both are sweet. Read the details here and don't forget to review the restrictions and fine print to take advantage of either.
Your quest for an extraordinary experience awaits just a few hours south of the U.S. where a hand-picked crew of people-pleasers will welcome you to a world of tranquility where you can not only reach your goal of "being present" but put your mind to rest. This may be the most fabulous gift you give yourself and who deserves it more than you do?
Call or email our Reservations office today!
(800) 408-8224
info@MantaIslandResort.com
www.MantaIslandResort.com