You don't have to be a student of Erik Erickson's theories to understand why taking a vacation that focuses on intimate time following a marriage has so many benefits. Prioritize intimacy and turn your honeymoon into an experience that's so profound, your marriage will start out on a stronger, more meaningful note.
Erickson says that the benefits of extreme intimacy are so long-lasting, they can make or break a marriage. With that in mind, what better way to begin your lifetime journey than by choosing a Caribbean island honeymoon where newlyweds can set a course for future success based on openness and sharing. Head for Manta Island Resort, off the Belize coast, where paradise awaits.
Surrounded by natural wonders
Manta Island Resort's off-grid-luxury begins at the water's edge where oceanfront cabanas – each located within discreet enclaves of trees, flowers, and greenery – deliver on a promise of privacy that many resorts offer but don't truly deliver. The property was built on one of only 4 atolls in the western hemisphere, so Glover's Reef Atoll's lush, rugged ecology contributes mightily to a feeling of having arrived in the modern-day equivalent of Eden – exactly the environment honeymooners seek.
Couples escape the burden of time-wasting planning by opting for the resort's Belize all inclusive package plan that is so filled with extras, you really must take a minute to read the long list of benefits Manta Island Resort offers couples for a single price. Honeymooners eager to be alone with nothing but ocean waves and cooling breezes tend to be very grateful that all the details surrounding their escape are set in stone before they arrive.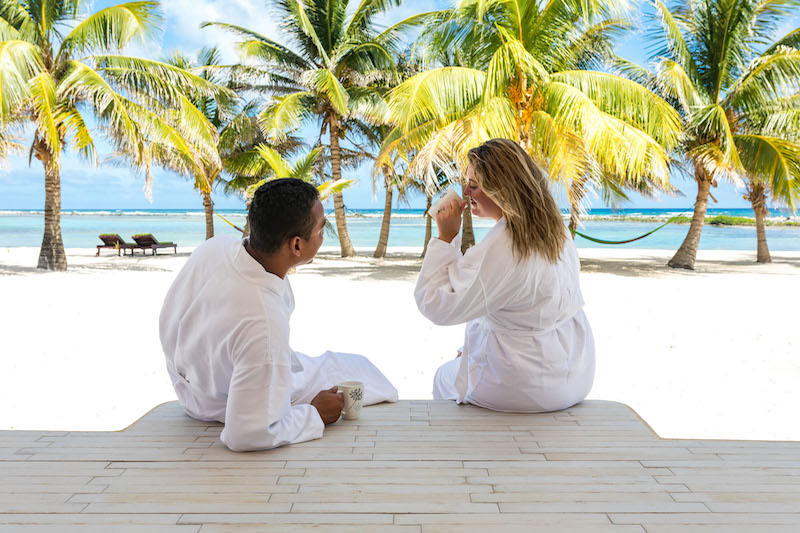 Yes, you can afford this sojourn if you act quickly
Would you like to save on your island honeymoon? Take advantage of discounts as long as you book by September 14, 2022. Take that honeymoon any time in 2022 since the deal remains in effect until full capacity is reached. Timing is everything. Read all of the details on the Belize vacation specials page.
You don't have to make any decisions about your time on the island once you secure your reservation. You can enjoy onsite spa treatments and choose from handpicked tours that allow couples to pursue their interests. Whether you intend to indulge in every water sport under the sun or your only wish is to share a hammock for two, make your plans knowing that discreet resort staffers love spoiling honeymooning guests.
Bookings for autumn and 2023 honeymoons have already begun to reach staffers who take pride in the fact that not only can they offer couples a level of privacy that is rare to find these days, but stringent COVID protocols remain in place that assure them safety as well. Take a peek at what awaits and you'll be convinced that this Belize island resort is exactly the paradise you had in mind when the two of you began your search for the place most likely to start your marriage off in style.
Call or email our Reservations office today!
(800) 408-8224
info@MantaIslandResort.com
www.MantaIslandResort.com