For Belize visitors seeking the utmost privacy who don't always find it – even at island resorts – Manta Island Resort's new reef villas deliver. Kissing the edge of the Caribbean, each structure is nestled amid Eden-like vegetation and strategically positioned so that folks exploring the pristine atoll nearby, won't have a clue the villas are occupied.
Interior and exterior excellence
As you can imagine, the care and attention devoted to each villa's exterior extend to under-roof splendor. These private beach bungalows offer richly appointed furnishings handcrafted of hardwoods, fully equipped kitchens, and beautifully decorated indoor/outdoor living space – one villa even includes a plunge pool.
Villa 1 at approximately 2550 Sq. Ft., features 2 bedrooms, 1 king sized bed per bedroom, and a sparkling plunge pool
Villa 2 at approximately 1550 Sq. Ft., features 1 bedroom with a king sized bed, a second bedroom with two twin beds, and…
Villa 3's first and second bedrooms come with king size beds and is approximately the same square footage as Villa 2.
But the ocean views will thrill lodgers most of all. Guests occupying each villa will face Belize's most famous landmark: The majestic Belize Barrier Reef.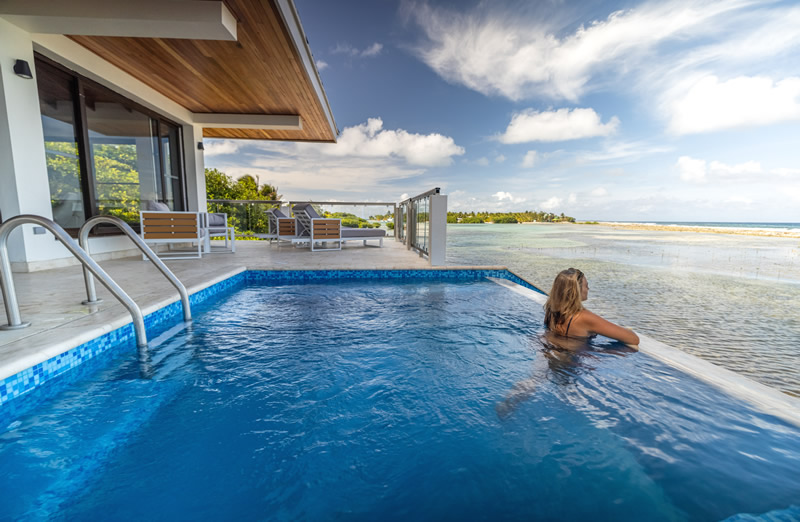 Why mention this? Because while other Belize island resorts may be located near the reef, only guests sojourning at Manta Island Resort's reef villas will directly face this wonder of nature. Villa guests have access to all of the existing amenities currently in place, including the resort's Black Coral Restaurant and Bar.
You'll applaud each villa's versatility
Does this mean that these three posh lodgings are being earmarked for adults only? Of course not. And each villa is an ideal fit for families traveling together with children, couples, and friends getaways. Planners will never find a more elegant, appropriate setting for group escapes.
World-class accommodations include touches that separate luxury properties from the ordinary, like plush robes, a walk-in shower with a rain shower head, toiletries, and safes for valuables. But all of the words in the English language can't adequately describe what these three villas will look and feel like, so you're invited to take a sneak peek now at the Two Bedroom Reef Villas and the Two-Bedroom Villa With Plunge Pool.
Manta Island Resort staff has thought of everything guests want for a stress-free stay in these gorgeous new accommodations, including the newly-designed and separate Reef Villa Package that is identical to Manta Island Resort's All Inclusive packages. But, instead of a private cabana, guests luxuriate in their reef villa.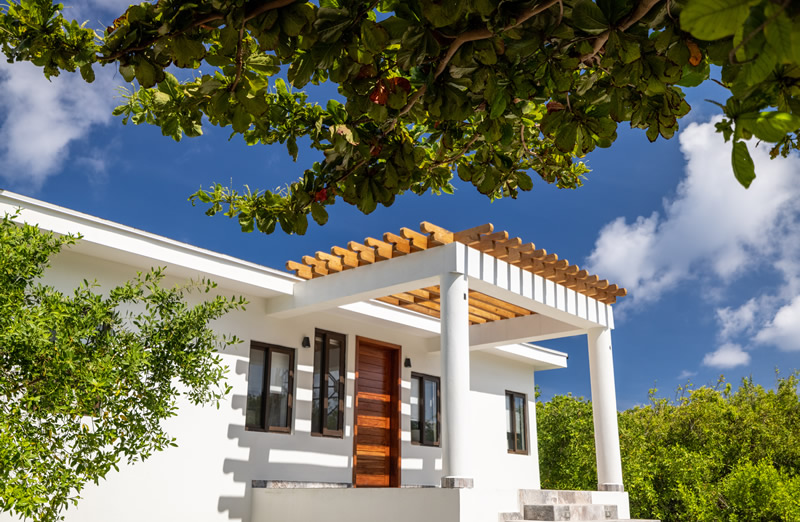 How can you become one of the earliest reef villa guests at Manta Island Resort? Use the resort's toll-free number to book your stay: 1-800-408-8224 or send an email to info@MantaIslandResort.com. Everything worthwhile is worth the wait and once you see what awaits, you'll understand exactly why only three of these exclusive reef villas are available at our island resort!

Call or email our Reservations office today!
(800) 408-8224
info@MantaIslandResort.com
www.MantaIslandResort.com