Did you know that honeymoon getaways have changed dramatically over time and that some traditions associated with these getaways are downright shocking? The origination of the honeymoon in fifth-century European cultures required couples to consume a month's worth of mead (a potent honey-based liquor) supplied by family members who checked to make sure it was all consumed.
In some societies, grooms were required to kidnap brides during an elaborate ritual in which her family tries to find her, while other honeymoons were taken expressly for the purpose of avoiding the payment of a dowry. Almost as distressing was the tradition of couples who were required to split time between both sets of in-laws during their honeymoons!
What a difference five centuries make. Anything goes these days, yet only one type of honeymoon has managed to retain a reputation for bliss over time: The private island vacation. It remains the fondest wish of romantics to escape to privacy and intimacy and happily, today's private island honeymoon is no longer available only to the rich and famous.
The island of your dreams
When searching for the ideal private island honeymoon, explore destinations that don't require long plane flights or language lessons to communicate. Head for Belize, happy couples. Even those with modest budgets can afford a honeymoon if they choose Manta Island Resort as their destination.
Whether you two are up for doing nothing more than lying on the beach or you crave an itinerary filled with adventures, this Caribbean island is everything you dream of and more. Manta Island's all-inclusive package removes all responsibility for making decisions because everything you crave is yours at a single affordable price. Use the resort's A La Carte Menu to customize your stay if the island's onsite amenities don't satisfy your need for excitement.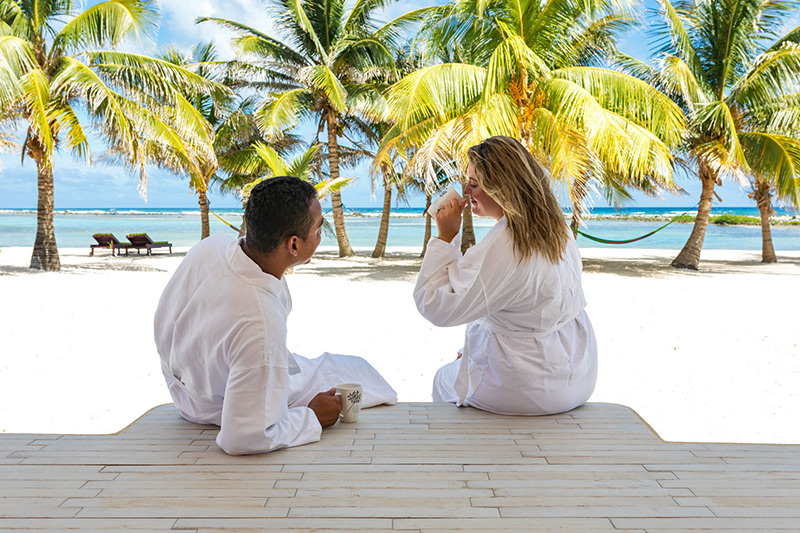 But wait; there's more!
Because Manta Island honeymoons are so sought after, management has thoughtfully designed a Honeymoon & Romance Add-On that includes romantic touches that turn an ordinary respite into a love nest. For a limited time, you two can take advantage of a Complimentary Honeymoon & Romance Add-On only available to couples who intend to stick around for at least 4 nights between June 1, 2023 – October 30, 2023.
Are your nuptials set to take place during this period? Obviously, your timing is perfect! Will you be required to do anything special to qualify for this romantic special? Only if you don't want to be shut out by other engaged couples who hear about this special and beat you to the punch. With only nine private oceanfront cabanas and three two-bedroom Reef Villas on the property, this 12-acre resort fills fast, so booking immediately could be the wisest move you've made since getting engaged.
Once you've arrived, you're invited to leave behind those strange honeymoon traditions—including the one requiring you two to drink mead for 30 days straight. Talented mixologists at the Manta Island Resort bar will be happy to power your heartfelt toasts to each other with more palatable options!
Call or email our Reservations office today!
(800) 408-8224
info@MantaIslandResort.com
www.MantaIslandResort.com