Do you put things off? Case in point: You've set a wedding date and booked a reception venue, but with all the other tasks on your to-do list, have you been procrastinating about where to honeymoon? Take a breath and resolve to change that ASAP, understanding that putting things off is a way of life for "More than 1 in 4 Americans," a CBS News poll recently found. 
The good news is that procrastination has nothing to do with laziness; it's all about stress and anxiety—two very common signs that you may not be making enough lists to relieve that anxiety-producing state of procrastination, but did you know that just the act of crossing things off lists can reduce that stress? C'mon. You've got a honeymoon to plan—and we've got a suggestion that will delight both of you!
The honeymoon island you read about in romance novels
Located off the Belize coast, Manta Island Resort is nothing short of an over-the-moon escape. It's gorgeous. Easily navigable. Delivers cooling Caribbean breezes 24/7, and even beachfront cabanas are designed for romance. 
You can reach Belize in just a few hours so your honeymoon gets off to a fast start, and Manta offers couples an all-inclusive package best paired with a Honeymoon and Romance Add-On that won't empty your bank account.
Situated so far from the mainland, you'll avoid crowds and noise that can disrupt even the most blissful getaway. Manta Island Resort is on Glover's Reef Atoll, a protected area and sanctuary for endangered marine life where raw beauty stands in stark contrast to the barefoot luxury newlyweds find at this lush resort. Further, activities and amenities are so varied, you won't believe an island this small has so much from which to choose.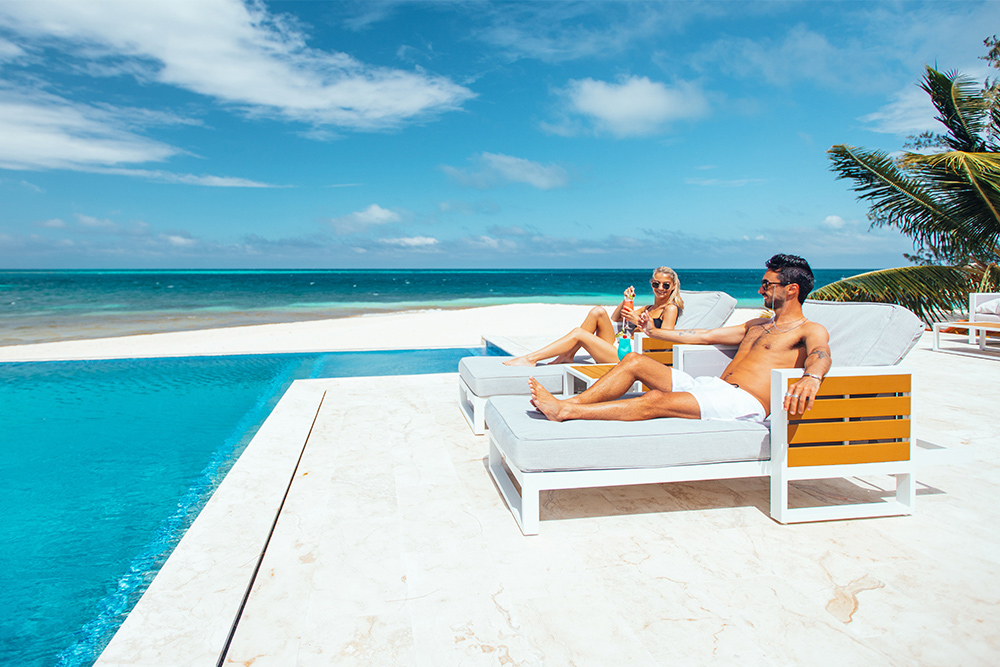 Stay put or stay active: Tours are designed for every couple
Whether you both love to stay active because fitness is a shared goal or you've had enough activity to last a lifetime via your fast-paced lifestyle, Manta Island is designed with everyone in mind. You'll have exciting opportunities to fish, dive, and snorkel or plunge yourselves into a state of bliss via soothing boat tours, and spa treatments. It's your honeymoon; tailor it to your personality. 
You'll never encounter a more helpful staff. Trained in the art of pampering newlyweds, if you would prefer to spend the entirety of your stay within your beautiful digs, they'll do everything but post a "Do Not Disturb" sign on the door of your accommodation.
Further, a Turn Up The Romance special could save a bundle, but immediate booking is critical if your wedding is to take place before December 22, 2023. Check the restrictions and fine print associated with this deal, put it atop your to-do list, and seal the deal on your dates. Not only will you feel great about crossing it off your list but this could be the start of your new commitment to stop putting things off!
Call or email our Reservations office today!
(800) 408-8224
info@MantaIslandResort.com
www.MantaIslandResort.com