It's hard to avoid news broadcasts and publications focusing on the weather these days. Fires in Canada, the dam collapse in Norway that caused chaos, floods in China, and heat waves spreading from the U.K. to Greece contribute to the wave of thought that climate change is the cause of these dramatic changes.
Given so many points on the globe struggling with disasters, you might want to reconsider taking your next vacation to Belize where the usual hurricane and storm season pale in comparison to hot spots around the planet. Since no month is a bad month to vacation in Belize, you may wish to join the unofficial fan club of world travelers who prefer September in Belize to all other months. Learn more and you could join this growing group!
Does it rain in September?
Of course, it rains throughout Central America in September, but visitors welcome it. Without those tropical showers, everything about this nation's lush flora and fauna would suffer. Further, showers tend to be short and intermittent. Folks who come south to scuba dive, snorkel, fish, and go boating like to joke, "We're already wet; what's a little more water?"
On average, temperature ranges throughout Belize in September average 84° F (29°C), so bring a wrap or jacket because lows of 77°F (25°C) at night may require extra layers—especially if you are fortunate enough to book time at once of the coolest properties in the country: Manta Island Resort.
This barefoot luxury paradise is perched atop an idyllic ring of coral about 36 miles off the Belize coast. It's a wonderland of rugged beauty that's home to most marine and aviary species in Central America in addition to being one of Belize's most exclusive resorts. Whether you plan to travel alone or bring your family, you'll enjoy personalized attention that has no equal.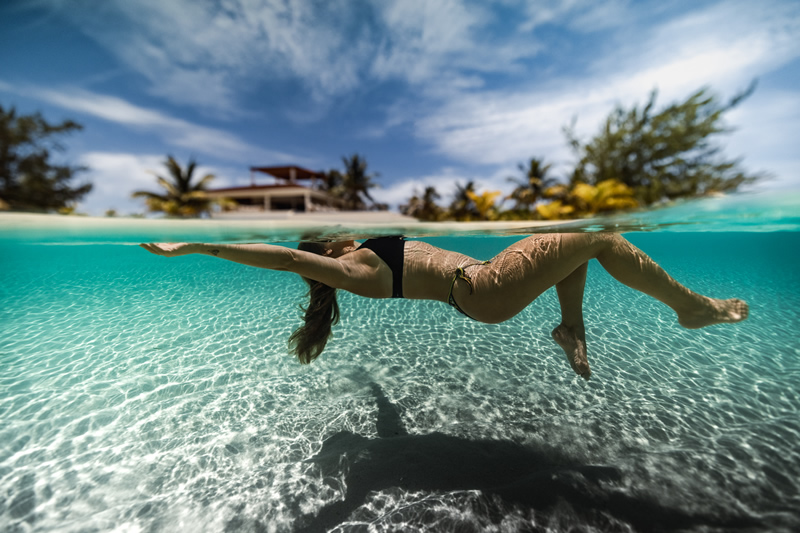 Simplify your visit with an all-inclusive package
Manta Island's all-inclusive is far from typical. Accommodations are swank. Meals are divine. Guests enjoy both unlimited local alcoholic beverages and unlimited water sports adventures, two reasons visitors are delighted to say yes to this bundle.
A la carte tours and upgrades, combination stays at sister resorts—plus luxuries like helicopter transfers—are all available, particularly in September when rates are their lowest, summer vacation crowds have disbursed and winter guests have yet to arrive.
Great weather and savings, too!
September winds blowing across the island bring with them a couple of specials that could make your stay even more delightful. These deals end relatively soon yet include all the extras guests enjoy during the remainder of the year.
Further, you can forget about queues at the resort's gourmet restaurant, and expect an impressive amount of attention from tour guides than you would when they're shepherding crowds in the winter. Sound like your idea of the perfect September getaway? You're wise to call the toll-free number 1-800-408-8224 immediately to book your visit!
Call or email our Reservations office today!
(800) 408-8224
info@MantaIslandResort.com
www.MantaIslandResort.com