According to Wall Street Journal contributor Ben Zimmer, most people think that the words "bucket list" originated with the 2007 Jack Nicholson/Morgan Freeman movie of the same name about guys on a road trip to see places before they die, but surprisingly, the concept of a bucket list has been around since 1785, when the phrase "kicking the bucket" was a common reference. 
Today's bucket lists are more varied than they were back then but equally heartfelt. What's on your bucket list? One resourceful blogger put 1,000 items on her bucket list, but if your only criteria are "tropical," Belize's Manta Island Resort should top your list for these 10 reasons and more.
Reason #1
Manta Island is located at Glover's Reef Atoll — one of only four atolls in the Western Hemisphere, which means this resort pairs natural beauty with lodgings that are the epitome of tropical comfort. Since there are only nine cabanas and 3 two-bedromm reef villas on-premises, privacy is guaranteed.
Reason #2
All inclusive Belize vacation packages cover every detail of a stay, including meals, local transport, and excursions. You can add la carte adventures like fishing, diving, and sailing if you want to keep going!
Reason #3
You won't run out of things to do no matter how long you stick around. The resort's inventory of snorkeling gear, paddle boards, kayaks, catamarans plus the swimming pool and pristine beach provide a buffet of things to do when you're not exploring the atoll's environs.
Reason #4
The food is remarkable. The Black Coral Restaurant delivers fine dining, meals are diverse (the menu changes frequently), food is ultra-fresh, and chefs are happy to satisfy diet requests. The cocktail menu is exceptional.
Reason #5
Want to feel like a real celebrity? Vacation like one by requesting Manta Island Resort's Celebrity Vacation Package that elevates a fabulous experience to a sojourn in paradise. Do you deserve less?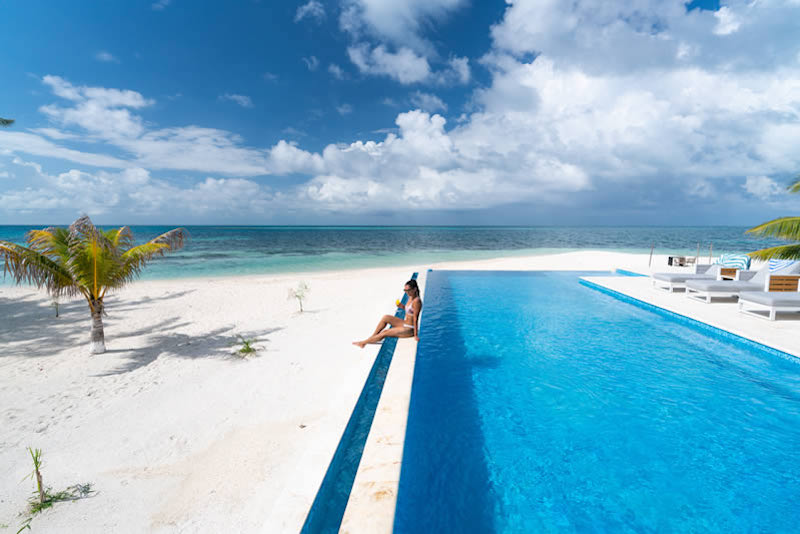 Reason #6
Are you fascinated by geological wonders? The ring of coral rock on which the resort resides is the culmination of millions of years of undersea volcanic eruptions. The atoll was declared a national protected area by both UNESCO and the World Wildlife Foundation. 
Reason #7
Pirates once lived on this parcel of land, so if you love history, let friends know you've chosen to vacation at a refuge claimed by pirate brothers John and Rodger Glover after the British hired them to terrorize Spanish ships daring to approach mainland Belize by the sea!
Reason #8
Meet all manner of aquatic creatures during an island-hopping excursion along the edge of the reef crest and take a romantic sunset cruise. Each is guaranteed to delight your senses.
Reason #9
Prepare to be spoiled. Resort staff members prioritize guest comfort. From the reservation specialist who helps you plan your bucket list trip to every team member, you'll be pampered nonstop.
Reason #10
Life is short. There's no time like the present. Why wait until you're too old to appreciate your top bucket list pick?
Call or email our Reservations office today!
(800) 408-8224
info@MantaIslandResort.com
www.MantaIslandResort.com