Have you ever wondered whether holidays actually benefit kids? Scientists agree that holidays are irreplaceable, noting that annual festivities help build bonds within a family, craft memories that last a lifetime, and provide children with a sense of security, identity, and belonging. Holiday family celebrations are so powerful, that they even make kids feel safe, concludes Dr. Michele L. Brennan and her colleagues writing for PsychCentral.com.
Having read that, you may be thinking about Thanksgiving since it's the next big family affair on calendars. Parents seeking a more meaningful holiday experience may want to think seriously about taking the family abroad since overseas trips have been proven to boost development, instill confidence, empathy, and so much more, writes Dr. Robin Hancock for Travel + Leisure magazine.
If the thought of packing and transporting your brood sounds daunting, don't panic. We recommend heading for Belize where your family will not only enjoy a fabulous overseas experience, but the flight is short, everyone speaks English, and you won't miss a minute of the tradition if you choose a resort that's family-friendly.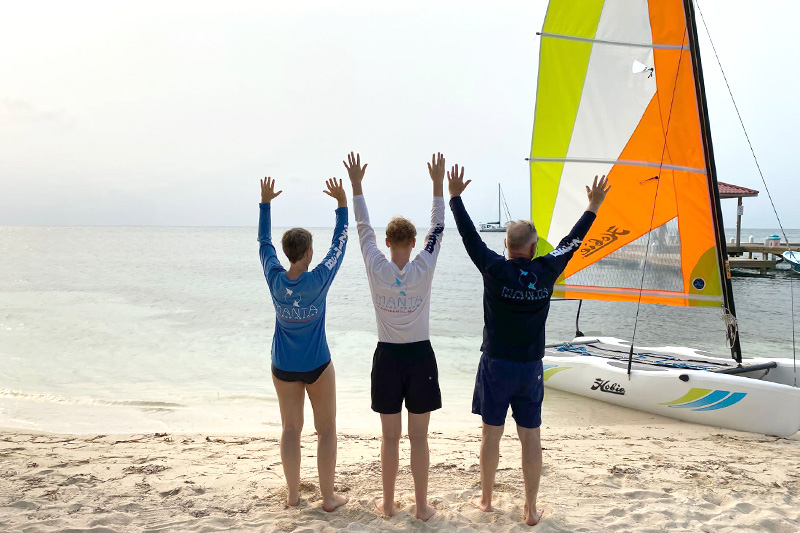 A Thanksgiving escape you'll never forget
Manta Island Resort, off Belize's coast, has become a mecca for family holiday getaways. This small atoll morphs into holiday central each November thanks to staffers who are committed to spoiling every guest. Your family members will be treated to a traditional turkey dinner that includes every side dish, but unlike home, there's no shopping, cooking, or cleanup to do.
This year's turkey dinner will be part of Manta Island's Belize all inclusive package, and all of the other meals for the duration of your stay are bundled into the getaway's cost. Mom and dad look forward to unlimited local bar beverages, and since time and money savings realized by choosing this package are so bountiful, it's no wonder parents flock to Manta Island with their kids to celebrate holidays!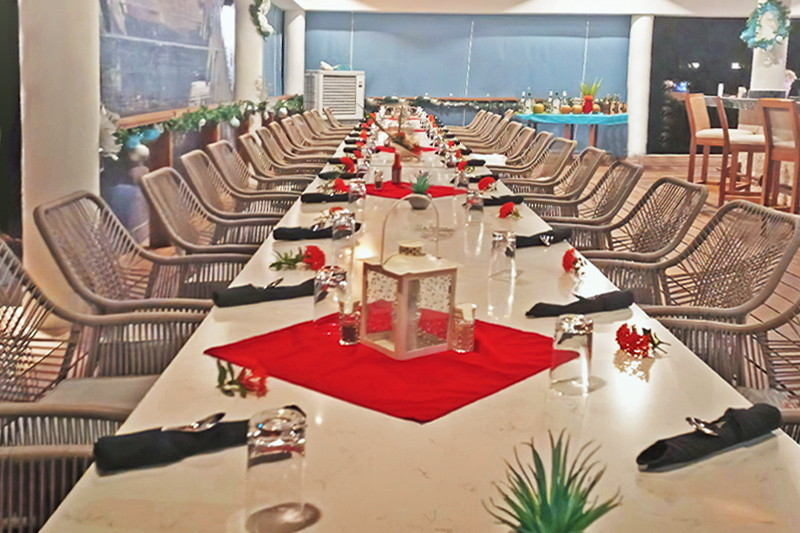 Manta Island: Your Thanksgiving playground
No matter the ages of your youngsters, there are endless things to do. From the beach and swimming pool to complimentary use of kayaks, snorkel gear, stand-up paddleboards, and a small Hobie cat, your youngsters will have a blast. Match the size of your party to roomy oceanfront cabanas that are family-friendly. And if your offspring are old enough for marine adventures, you've come to the right place.
Kids as young as 8 can be introduced to diving via courses designed especially for youngsters between the ages of 8 and 11, and we can guarantee that they'll stay so busy throughout your visit, that they'll gobble up every meal and won't have to be told "Go to bed," because they'll be worn out!
Sound like the Thanksgiving experience your family would love? It's better! In fact, families are already beginning to book for this November, so don't get left out in the cold—literally or figuratively. Contact the resort post haste to check on availability and once you've succeeded, break the news to your entire family about your plans to share Thanksgiving under the Belize sun. Expect hugs from everyone!
Call or email our Reservations office today!
(800) 408-8224
info@MantaIslandResort.com
www.MantaIslandResort.com