Travel+Leisure magazine author Evie Carrick suggests that intrepid travelers commit to taking an "ultimate vacation every decade." If your next milestone is on the horizon, it's never too early to start planning. What defines the ultimate vacation? Age and budget impact your decision, as does an ever-changing perspective on travel desires. After all, the getaway you dreamed about in your 20s isn't necessarily the one you would put atop your list once you reach your 60s.
That stated, it is up to every nomad on the planet to find "their" ultimate place of excitement, pleasure, and fun. If that destination happens to be English-speaking Belize where cultural delights compete with some of the best aquatic sporting venues on the planet, it matters not what decade you're commemorating because Belize attracts people of every age and stage of life—and it only takes a few hours to get you into the middle of whatever you love doing—whether it's a dip in the pool or a tour of an ancient Maya site.
Is this your ultimate island vacation year?
If you've denied yourself the pleasure of an island vacation because you worry that islands will limit the number of things you can do versus a mainland resort, you just haven't found the right island! At Manta Island Resort, not only will you be offered endless activities and experiences, but when you're not off on an adventure, this remarkable atoll gives you the peace, privacy, and relaxation not always found at a crowded mainland property.
Manta Island is situated on one of just four atolls in the Caribbean on Glover's Reef. The result of millions of years of underwater mountain volcanic eruptions, this rugged ring of coral contrasts dramatically with the unexpected off the grid luxury guests find the moment they arrive at Manta Island Resort. Only nine private oceanfront cabanas and three villas make up the entirety of the resort, so your accommodation delivers on a level of intimacy you may never have been offered before now.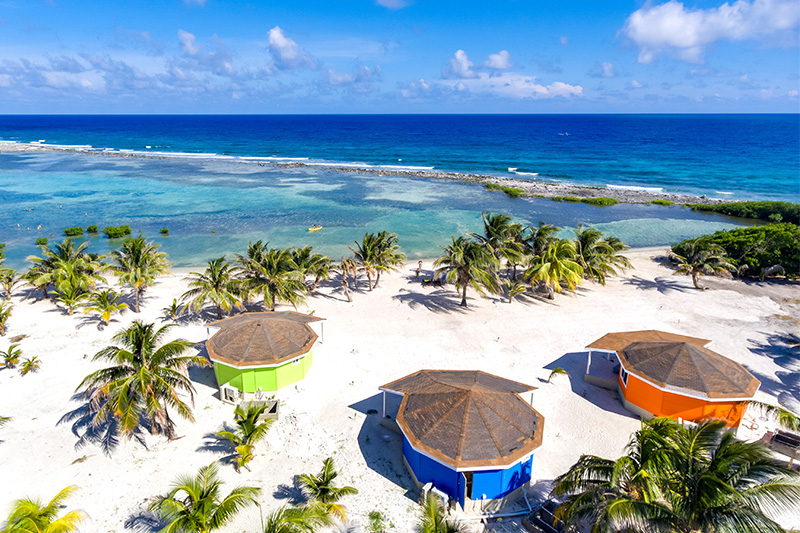 The ultimate deal can be yours, too
Booking a Belize All Inclusive Package lets you pre-select the kind of ultimate vacation you seek because every detail of your stay is covered, allowing you to focus on activities that attracted you to this Caribbean haven in the first place. Browse this web page to view a surprising number of options at your disposal, as well as the menu of add-ons and à la carte tours that customize the ultimate getaway down to the last detail.
Can't wait? You don't have to, intrepid traveler. If waiting until 2024 to grab your share of island time seems too far off, you could snag the Belize Bound Vacation Special. Have we whetted your appetite? The ball's in your court—especially if you can't think of a single reason not to make this destination your next ultimate journey!
Call or email our Reservations office today!
(800) 408-8224
info@MantaIslandResort.com
www.MantaIslandResort.com