In case it's been too many years since your English teacher made you read Robinson Crusoe, the Daniel Defoe novel that captivated readers after its 1719 publication, you may have forgotten that this "self-narrated" tale tells the story of a young Englishman who ignored his parents' wishes to undertake a disastrous sea voyage.
Considered one of the most important works in literary history, the book launched the "realist tradition," a genre adopted by greats like Fielding and Dickens. What keeps fans riveted to each page? The saga of keeping up with Robinson's innovative survival mechanisms after he washed up on a small, uninhabited island.
Who can't identify with Robinson's determination to survive, despite obstacles that would make a lesser man give up? If you love the tale—but prefer being stranded on an island that's populated with people and resources that guarantee a comfortable getaway—grab a copy of the book and head for Manta Island Resort off the Belize coast. You'll appreciate this story even more!
Your island in the sun
While Robinson lacked company, he didn't have to deal with crowds, so if you seek a refuge where there are more palm trees than people, you've found Shangri-La a few hours away from home. Tropical influences contribute to a restful, comfortable stay, yet this resort is anything but primitive! The staff is devoted to assuring every guest a barefoot luxurious experience and the All Inclusive Package sets a new standard for variety.
Customize everything about your sojourn by considering Manta Island's add-ons and a la carte menu to create your one-of-a-kind island holiday and you won't have to be rescued from anything since personalized service is the hallmark of this island sanctuary.
Explore the atoll for a glimpse of the world Robinson Crusoe found when his vessel was shipwrecked. Shaped by millions of years of spewing lava that created a base on which coral has grown, wandering the atoll is one of the most soothing aspects of a Manta stay, especially since the contrast between sleek interior environs is so dramatic.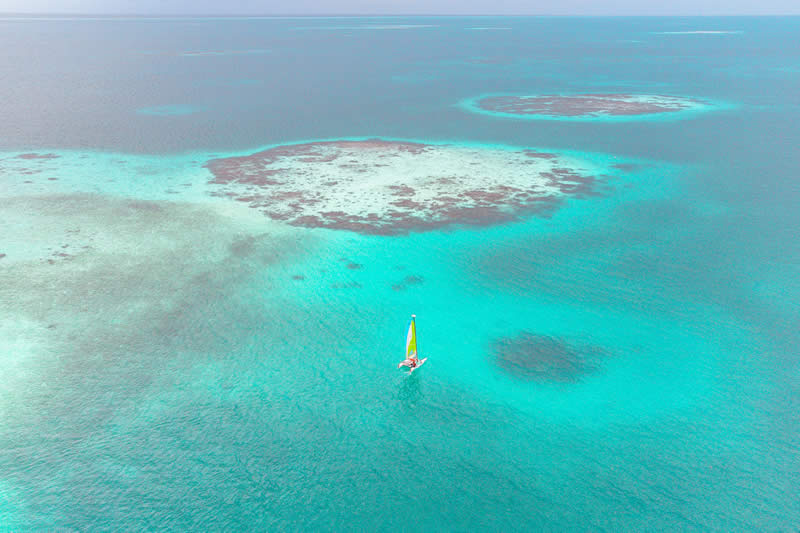 TripAdvisor's Traveler's Choice 2023 Best of the Best
There's a reason Manta recently won this coveted award. Guests enjoy the utmost privacy that's footsteps from the beach, and when it's time to dine, Black Coral Restaurant and Bar culinary pros offer delicious cocktails, entrees, and desserts that delight discriminating eaters. Special diet? No problem. You're in culinary nirvana.
Whether your idea of recreation starts and stops with Manta's sunset cruises or you intend to try every aquatic adventure, you can do it all, but if you're ready to pack a bag but realize that your finances are a bit short? Browse current Belize vacation specials. These deals come with specific restrictions, so read them carefully. And don't worry about packing. Robinson Caruso arrived on his island with nothing but the clothes on his back. You'll want to bring a swimsuit!
Call or email our Reservations office today!
(800) 408-8224
info@MantaIslandResort.com
www.MantaIslandResort.com