Because Belize is so well known for being the capital of aquatic adventures, not everyone is aware of the unmatched beauty this nation offers travelers starved for opportunities to bask in the glory of nature's gifts. Depending upon the amount of time you have on your travel schedule, taking in Belize's stunning beauty is not only pleasing to the eye but restorative for the spirit. These 10 must-see places are only an introduction to Belize's most beautiful sites, but given the size of this small nation, even a short visit offers you access to many of these wonders.
Belize boasts a plethora of approximately 450 unspoiled cays, which are reminiscent of the idyllic paradise of Eden. Among these is Manta Island, a breathtaking retreat located on a caye, along with its sister resort, Coco Plum Island Resort.
There are 900 Maya archaeological sites within the nation's boundaries, each offering a unique and fascinating glimpse into history. Manta Island's sister resorts, including Laru Beya, Coco Plum, and Belizean Dreams, offer tours to some of these ancient Maya cities, allowing visitors to delve deeper into the rich cultural heritage of Belize.
The Belize Barrier Reef, which is closer to home than its Australian sister, offers a captivating underwater world teeming with diverse marine life that can leave you breathless. Additionally, all four resorts – Laru Beya, Coco Plum, Belizean Dreams, and Manta Island – offer snorkeling tours, allowing guests to explore the coral and underwater menagerie of fish and amphibian creatures up close.
Wandering Belize's lush rainforests and jungles is an unparalleled experience, surrounded by a variety of flora and fauna, the sounds of wildlife, and fragrant aromas, visitors achieve a state of tranquility. Guests of Manta Island's sister properties, including Laru Beya, Belizean Dreams, and Coco Plum, can book jungle tours and immerse themselves in the beauty of Belize's natural environment.
San Pedro's urban vibe delivers tasty bites of color, cuisine, and charm. This delightful village is filled with beautiful people, each of whom is warm and welcoming.
Beauty plus thrills? Find both at The Great Blue Hole. This limestone chasm dazzles, whether you dive into its depths or fly over this mesmerizing site.
The Actun Tunichil Muknal (ATM) Cave is a stunning network of underground caverns, where visitors can explore ceremonial chambers containing skeletal remains and artifacts that serve as remnants of Belize's ancient past. Manta Island's sister properties, including Laru Beya and Belizean Dreams, offer bookings for the ATM Cave tour, allowing guests to discover and appreciate Belize's rich historical heritage.
The Placencia Peninsula, home to Manta Island's sister property, Laru Beya, is renowned for its unmatched beauty, which provides guests with a unique sensory experience. With pristine beaches on two coasts separated by just one mile between the lagoon and the Caribbean Sea, visitors can appreciate the natural splendor of the peninsula's coastal landscape, making it a perfect destination for those seeking relaxation and adventure.
Ask frequent Belize visitors to name their favorite visual experience of all and many will say it's the Mountain Pine Ridge Forest Reserve. From dramatic waterfalls to caves, and natural wonders, this terrain is so inspiring, it feels like a sacred space.
Cockscomb Basin Wildlife Sanctuary, a must-visit destination for nature lovers, completes the list of beautiful places in Belize where you can spot a jaguar roaming amidst ancient mountains and rare wildlife species, leaving visitors breathless. Manta Island's sister properties, Laru Beya and Belizean Dreams offer tours to this breathtaking natural reserve, allowing guests to experience firsthand the beauty of Belize's natural environment.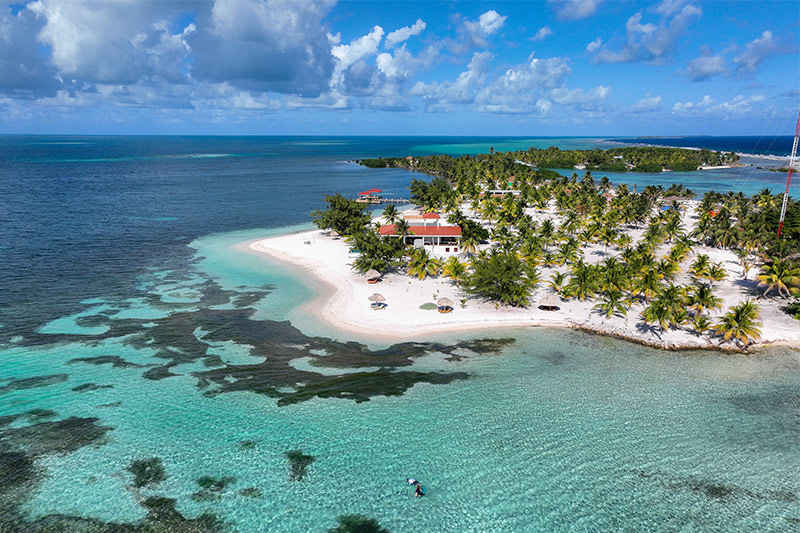 No Belize visit would be complete without vacationing on a tropical island offering its own unique brand of beauty and wonder, thus choosing Manta Island Resort for your holiday enhances all aspects of your visit. By staying on the island, you enjoy Belize all-inclusive packages and add-ons that offer additional tastes of Belize's unmatched beauty.
Situated on Glover's Atoll, a ring of coral offering guests a blissful sojourn on this lush windswept parcel of land, it's the ideal place to enjoy solitude under a soothing blue sky and amid turquoise waters. Guests are also treated to superior service, gourmet dining, and so many other perks, you'll put Manta Island Resort atop your international list of most beautiful places on earth to vacation!
Call or email our Reservations office today!
(800) 408-8224
info@MantaIslandResort.com
www.MantaIslandResort.com