Are you brave enough to admit that you're a hopeless romantic? Count yourself among the lucky and fortunate, says writer and romance enthusiast Acamea Deadwiler. She identifies hopeless romantics as men and women who view love as a blissful experience (even when they're not the person in the romance), which is why romance novels hold so much appeal. 
Hopeless romantics are easily spotted. They fall in love easily, wearing the proverbial rose-colored glasses. They're eternal optimists who fall fast and hard, experiencing blissful highs early in relationships. Hopeless romantics daydream about love and marriage and could shed a tear just listening to a romantic ballad. Does this mean that everything about the other person is perfect? Of course not. That's the beauty of true love; even when initial passion fades, what remains behind is a solid, deep relationship that stands the test of time.
Have you found your Romeo or Juliette?
No balconies are required to swear an oath to everlasting love—but it's wise to be tender with your relationship so it deepens and flourishes. One of the best ways to ensure this is to make time for each other and take advantage of opportunities when they arise. For example, how about escaping to a private island resort in Belize?
At Manta Island Resort, guests rediscover each other every day! Because staff and management are in the business of helping couples reignite their passions, they've curated a Honeymoon & Romance Package Add-On that sets the mood and bundles everything about a sojourn into one remarkable experience once it is tacked on to resort all inclusive packages.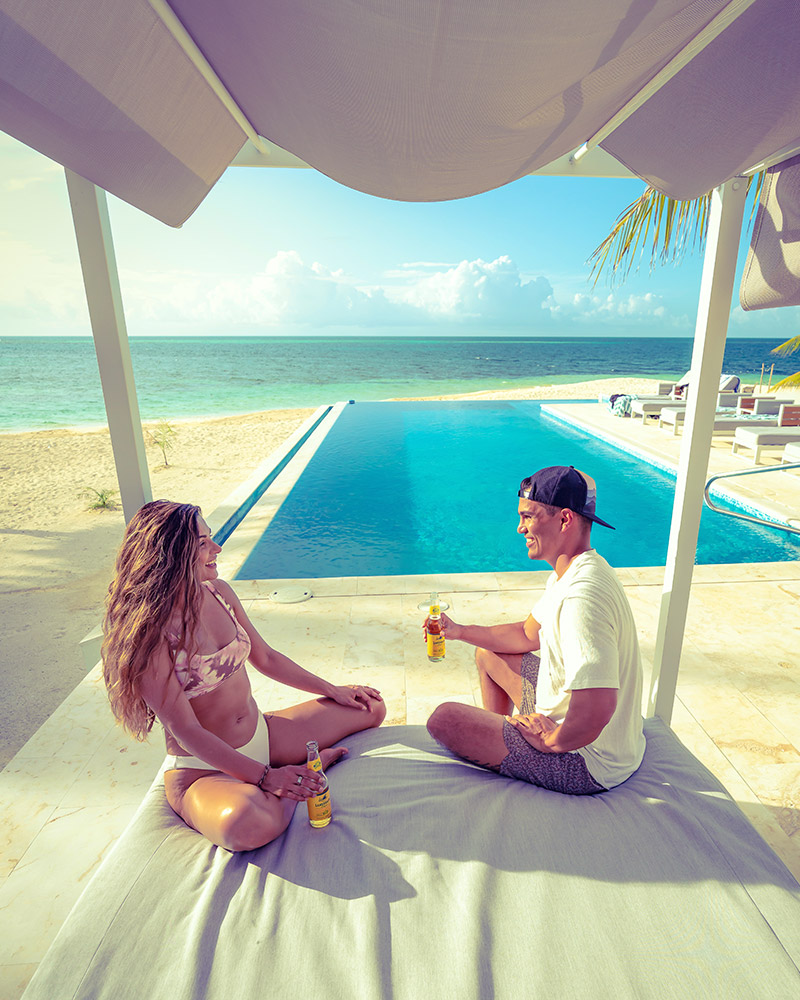 Lovers recommend the following four "must-do" island activities
Arrange with staff for your own private candlelight dinner. Tuck yourselves into a blissful bubble of pleasure in a private spot where discreet staff members take care of every romantic detail.
Help yourselves to pamper spa services that revitalize your mind and spirit. Massage triggers emotional releases that heighten pleasure. Myriad treatments on the Manta Island Resort massage menu will return you two to your lovely accommodations in the perfect state of mind!
A sunset cruise will feel like a romantic movie. Your captain delivers on both navigation and culinary fronts. From sipping wine as the sun sinks into the sky to nibbling on treats, you'll feel like celebrities.
 Manta Island's island-hopping excursion offers you a tour of nearby islands. The picnic you'll bring along will fuel your journey when you stop off on a sandy beach during your tour.

 
Sound like the experience you dream of but never thought you'd find?
Read all of the details describing this fabulous getaway and you'll be inspired. Dare we add that island activities like kayaking, swimming, offshore sporting opportunities, and languid beaches are all options that come at no added cost? 
Everyone's romance dream is unique, but not everyone gets the opportunity to realize their wishes at so lush a destination. Count yourself among them the moment you book your getaway.
Call or email our Reservations office today!
(800) 408-8224
info@MantaIslandResort.com
www.MantaIslandResort.com