What's the best part of vacationing on an island? Being surrounded by beachfront and ocean, of course. But are you aware of the fact that an island vacation can enhance your health, too? Becky Stanbridge's research into the benefits of beach holidays could send you scurrying to find your luggage. In addition to relaxing, Mother Nature will endow you with these gifts:
Soak and swim in sea minerals to tone your body and improve your circulation
Salt water combats bacterial growth, soothes and heals skin disorders
Ocean water is loaded with magnesium, a mineral that benefits every cell in the body
Sea air is filled with negative ions so lungs process oxygen more efficiently
Ocean air balances serotonin levels that are linked to mood and stress disorders
Onshore breezes whisk away pollen laden air that can cause allergic reactions
The sun's vitamin D power enhances bone health and boosts the immune system
Regular sun exposure, say recent studies, may cut bone cancer risk in half!
Enjoy all of those benefits at this private island Belize resort
North Americans don't necessarily need excuses to vacation, but for those who long for an escape that also happens to deliver all of the aforementioned benefits, there's an island awaiting your arrival just a few hours away by plane that's just off the Belize coastline. Even your doctor would approve if you decide to escape to Manta Island Resort.
Located on Glover's Reef, a popular stopover for yachters cruising the waters off the Southwest Cayes, guests settle into comfortably elegant oceanfront cabanas that promise the ultimate in privacy since there are only, at this writing, nine cabanas onsite. Each is located close to the water's edge so you'll experience indoor/outdoor living steps from the sea. From state-of-the-art bathrooms to a mini 'fridge stocked with beverages, visitors enjoy the 5-star experience one expects from one of Belize's best properties.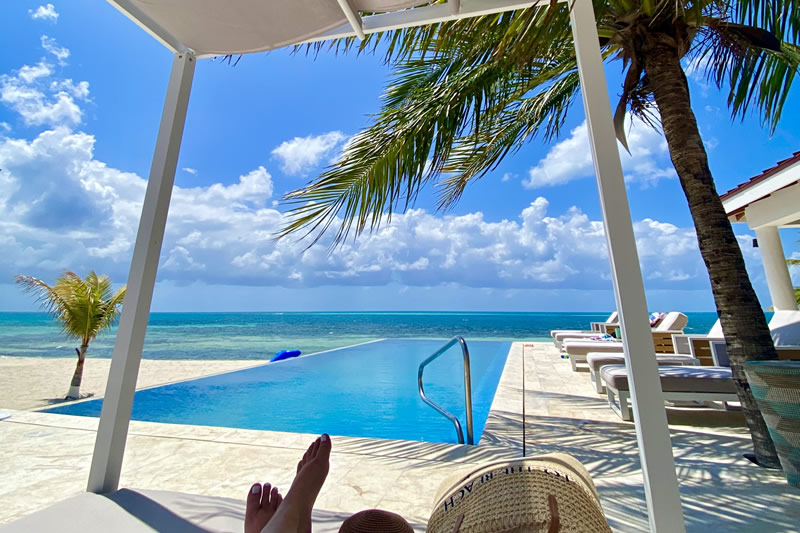 Opt for a package on this private island Belize resort
There's a reason Manta Island Resort is known for its Belize all-inclusive vacation package that includes unlimited local beverages, gourmet meals, complimentary use of snorkel gear, kayaks, paddleboards, and a Hobie Cat. Local Belize in-country flights, and boat transfers on arrival and departure days are also included in the package price.
Stick around for 4 days or 7 days to get your fill of island living that includes group snorkeling adventures and island hopping fun. Add extras to customize your Belize all-inclusive vacation. You can afford to say yes to them if you take advantage of resort specials that save more money, especially if you stick around longer.
You don't have to tell your friends that you vacationed like a celebrity during your Manta Island Resort stay where you improved your health and well-being and saved money, but a better idea would be to share with your friends all of the benefits you intend to enjoy and invite them to join you! Renting this Belize island in its entirety is as easy as contacting the Manta Island Resort staff and inquiring into this possibility. Your friends will thank you big time for coming up with this ingenious idea.
Call or email our Reservations office today!
(800) 408-8224
info@MantaIslandResort.com
www.MantaIslandResort.com