Couples who want their unions to thrive have learned that a meaningful celebration every year does more than provide an excuse to pick up flowers, chocolates, or make a dinner reservation. "Research now shows that marking important anniversaries can actually help strengthen relationships," say Drs. John Gottman and Neil Clark Warren, two of America's most well-known marriage experts. They agree that anniversary celebrations strengthen marriages for very understandable reasons:
They help couples recall circumstances that brought them together, reminding each other of cherished memories made during those early courtships and marriage days—before kids, careers, and other factors take precedence in our memories.
Dr. Gottman's research into "positive sentiment override" allows him to spend a single hour with newlyweds to assess the fondness and admiration the couple has for each other, and he has a 95% accuracy rate on predicting whether their marriage will last for at least 15 years. Taking time to celebrate is a critical part of achieving longevity.
Anniversaries serve as a "positive day of celebration that allows couples to step back from the daily grind, and remember a moment that changed their lives together," says Dr. Gottman. Couples destined to stay together focus on each other's positive qualities that remind them why they fell in love in the first place.
Celebrating anniversaries helps couples "gravitate back towards each other when times get tough," notes Dr. Warren. The ultimate anniversary experience? A vacation that is as unique as the couple, and few celebrations match an opportunity to stay at a lush Caribbean island resort dedicated to helping celebrants rediscover their passion and respect for each other.
A resort designed for anniversaries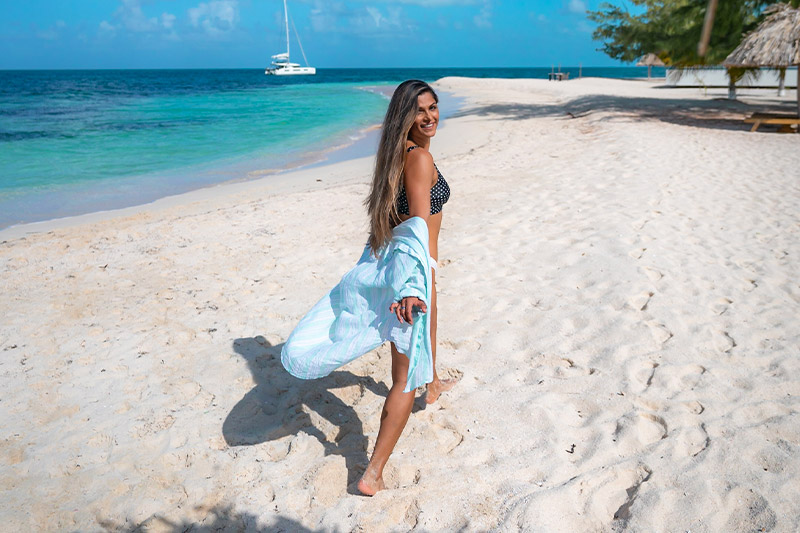 Whether it's your 10th or your 40th, Belize's lush Manta Island Resort and staff welcome opportunities to turn an already-romantic sojourn into a spectacular celebration of love. Oceanfront cabanas are oases of intimacy and lavishly appointed with so many personal touches, that simply reading the list of perks provided at the bottom of this web page will impress you.
The Manta Island Belize all-inclusive package includes meals, unlimited local bar beverages, round-trip airport and boat transfers, select tours based on length of stay, and complimentary use of kayaks, stand-up paddleboards, snorkel gear, and the resort's small catamaran.
Whether you prefer to do as little as possible so you can recall how it feels to exchange thoughts and dreams without interruptions or you two have no intention of abandoning the competitive edge that binds you, this anniversary stay is guaranteed to re-light the spark of yesterday as you talk endlessly of what still awaits!
Will your anniversary take place after April 1, 2023? This will be an especially fortuitous celebration if you lock in your visit dates immediately since the island is small and bookings disappear fast when Manta Island offers the infrequent money-saving special. You two fell for each other without reservation, so don't miss this anniversary date special by waiting too long to make your reservation!
Call or email our Reservations office today!
(800) 408-8224
info@MantaIslandResort.com
www.MantaIslandResort.com