Few experiences compare to vacationing at a resort that hugs the seashore where waves provide soothing lullabies and thoughts of splashing in the surf first thing in the morning put mind and body into a state of bliss. But how would you like to shorten the distance between you and the ocean by residing in an overwater bungalow that makes that morning swim even more accessible?
Whether you're looking to vacation solo or you'd like to share an overwater lodging with family or friends, only Belize's Manta Island Resort can deliver on this much barefoot luxury. The resort's reef bungalows offer a bit of privacy from the moment you take the pathway to reach the unit's peaceful environs. Further, accommodations don't hold a candle to traditional overwater lodgings. One stay is all it takes spoil guests for all future Caribbean vacations.
Romantic outside and elegant inside
Visitors who haven't experienced off-the-grid luxury will have to be reminded that they're sojourning on an atoll that's thousands of years old when they see the sleek interior design that sprawls across 1558-square-feet and accommodates up to five guests.
Within the villa you select, you'll find bathrooms, full kitchens, dining room, living room and bedrooms designed for deep sleep. Since each overwater bungalow features boundless open space, not only do these units look larger but they deliver plenty of room for "alone time" if you're staying as a group.
Despite being fairly self-contained, everyone in your party is invited to partake in resources that include the area's best snorkeling and dive sites. Try your hand at fishing, kayaking, and Hobie cat piloting. Prefer to take group tours? They're included with packages, and offer everyone plenty of recreational choices.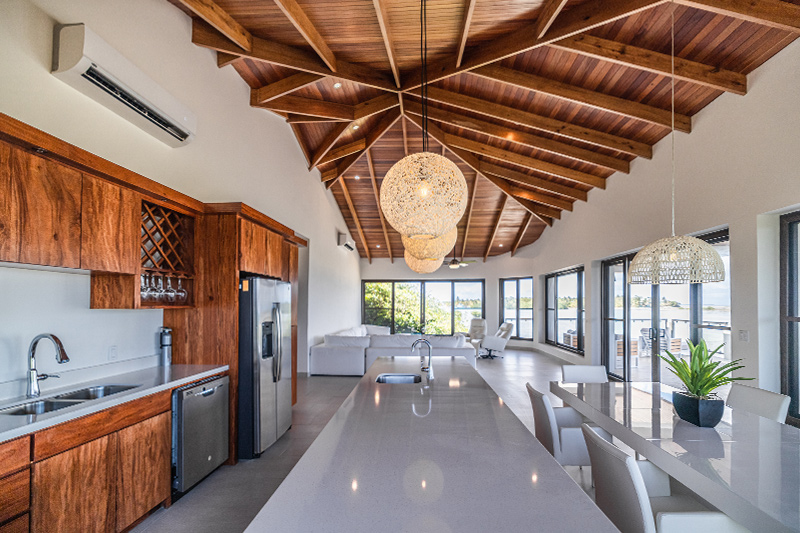 Every extra you could ask for
Depending upon the length of your stay, you can avail yourself of between one and three Glover's Reef guided group snorkeling trips or a combination of Glover's Reef guided group snorkeling trips and boat trips that are included in all-inclusive packages. Like all world-class resorts, Reef Villas are provisioned with everything guests require:
 Complimentary Wi-Fi
 Daily housekeeping services
 Lavazza espresso machine and sleek appliances
 Purified water
 Private verandas with outdoor seating area
 Flat-screen television
 Air conditioning and ceiling fan
 Hair dryers
 Signature bathrobes
 Shampoo, conditioner, body soap, and lotion
 110v outlet means no converters are required for your devices
 Room service and daily housekeeping services.
Transport to the dock plus boat passage is included with your Manta Island Resort all-inclusive package, as are meals, unlimited local bar beverages, and personal service that puts Manta Island on the international map for hospitality excellence.
Browse the resort's website to peek at the splendor awaiting you and your travel friends when you arrived at the cabana reserved for your getaway. Impressed? Wait until you see everything in person. You'll understand why we repeat this promise: One stay can spoil you and your travel partners for all future Caribbean vacations!
Call or email our Reservations office today!
(800) 408-8224
info@MantaIslandResort.com
www.MantaIslandResort.com