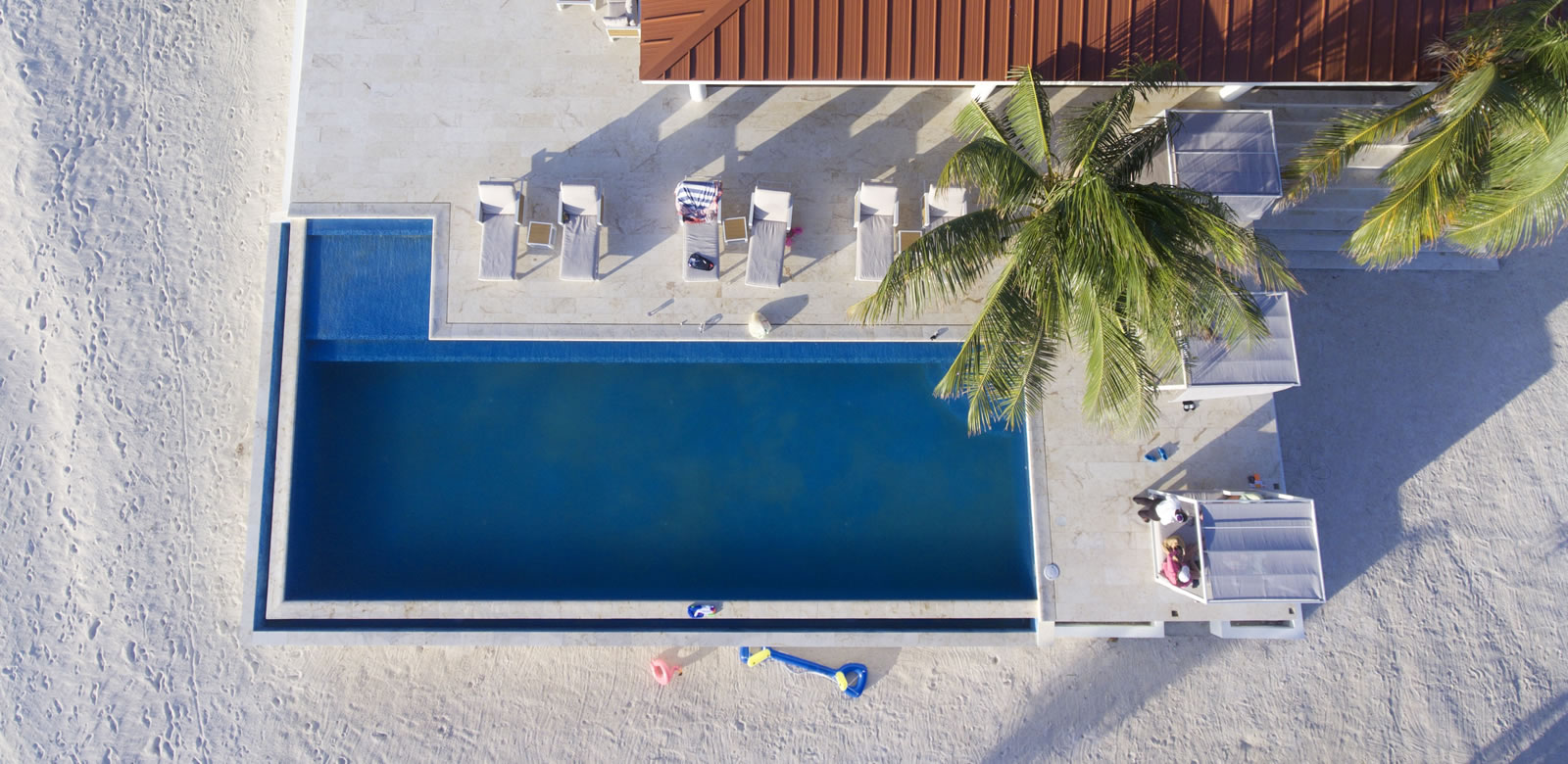 Manta Island Resort is pleased to inform you that we do work with Travel Agents. Please review some of our most frequently asked questions from Agents like yourself.
About Manta Island Resort
Your clients may have many questions about Belize – the primary one being – "How do I experience an island getaway with white sandy beaches?" If your clients are looking for an all inclusive, island getaway, we've got them covered! Manta Island Resort is situated on a 12 acres private island within the Glover's Reef Atoll, a breathtaking marine reserve and world heritage site approximately 36 miles off the southern coast of Belize. Accessible only by boat, Manta Island allows for a small number of guests. Crystal clear shallow waters surrounding the island are perfect for sailing, snorkeling, kayaking and swimming. 
We have mastered the art of providing hassle-free all inclusive vacations. Whether your clients want to experience the best beaches of Belize, adventures of Belize, or diving in Belize, we have thought of just about everything to enhance the value in each of our vacation packages. All packages include meals, tapas/mini bites daily, unlimited local alcoholic drinks, Round-Trip Local Transportation (Between Philip Goldson International Airport [BZE] in Belize City & Dangriga) and RT Boat Transfer (Between Dangriga & Manta Island Resort) for arrival and departures (international airfare to Belize is not included in our rates), daily housekeeping and all taxes and resort fees. Your clients can also add adventure tours. Read more about our island here.

We encourage you to explore our full website to learn all about Manta.
Does Manta Island pay commission?
Yes, we do pay commission to agents on our All Inclusive Package.
What commission percentage do you pay to Agents?
We pay 10% commission on our Private Cabanas and our Belize Reef Villas (based on the value of the package type in a Standard cabana). Once the commission is determined we will provide a net and rack booking rate.
The following are not eligible for commission:
Wedding Package
Reef Villa accommodation upgrades
Package Add-ons and à la carte items
Tours and Spa Services 
3 night stays
In-country transfers valued at US$412.50 (per person round trip)
Single occupancy surcharge fee (as of 6/8/2021 we do not accommodate solo travelers)
Bookings during Christmas & New Year Christmas (including the week before & after Christmas) & New Year (including the week after), contact reservations for exact dates
Rates already discounted
Rates for children ages 12 and under (13+ are charged as adults)
Private Island Rental Package
Celebrity Package
How do Agents collect their commission?
Alternately, Agents can decide to pay us the rack rate for the booking. We will keep the net rate and remit the difference back to the agent about one month after guests check out. For agents to receive commission, the following form must be filled so we can send your commission via a wire transfer or bank draft: Commission Form.
Once known as "Mother Nature's Best Kept Secret" Belize is now an alluring travel destination for people from all walks of life. With glistening sandy beaches, untouched rain forests, and a rich cultural history dating all the way back to the ancient Maya, it's a country that offers something for everyone. Belize is home to a wealth of natural wonders offering unrivaled diving, untouched coral patches, dense jungle, and an underground Mayan world rich with history. From its pristine tropical rainforest to the largest barrier reef in the world, Belize is every traveler's dream come true.
Based on Manta's location, we don't have the inland tours included. However, we have a full range of other marine tours that you can experience which would keep you on an adventurous path.
In more recent years, getting to Belize from North America has gotten much faster with direct, nonstop flights from major cities. As the only English-speaking nation in Central America, bordered and strongly influenced by the shores of the Caribbean, Belize is at the epicenter of every wanderlust traveler's dreams.
In the United States, American Airlines, Delta, Southwest, Sun Country Airlines, United Airlines, and others all now operate flights to Belize (code: BZE) from nearly a dozen major cities, including Atlanta, Los Angeles, Chicago, Dallas, Houston, Charlotte, Denver, Minneapolis, and Miami. There are also flights from Toronto, Cancun, Merida, Roatan, Panama City, San Pedro Sula, San Salvador. Currently, all international flights to Belize land at the Philip S. W. Goldson International Airport (BZE). Kindly note, our rates do not include international travel.
Unlike most other parts of the world, Belize only has two seasons – wet and dry. Our "dry" season is our peak season for visitors who come looking to escape a bleak and dreary Northern winter. The dry season begins in late November (around Thanksgiving) and ends in May. Within our dry season, however, there are three months that are especially the warmest and driest of them all: March, April, and May. That means these months are prime months for all aquatic activities like kayaking, paddle boarding, swimming, diving, snorkeling, fishing and so much more!
What makes Belize unique is quite simple: its people. As a small nation with a little over 400,000 residents, Belize is a melting pot of various cultures. With its British colonial ties, Carib settlers, Central American neighbors, and more recent immigrants from around the world, you will surely meet friendly locals with interesting stories. Although most cultures have their own native tongue, English is the official language of Belize, making it easy for tourists to navigate and form a connection with the locals.
"The best word to sum up my stay at Manta is AMAZING! Honestly, I was in awe from the moment I spotted the island and then when I stepped foot on the island, I was amazed!"