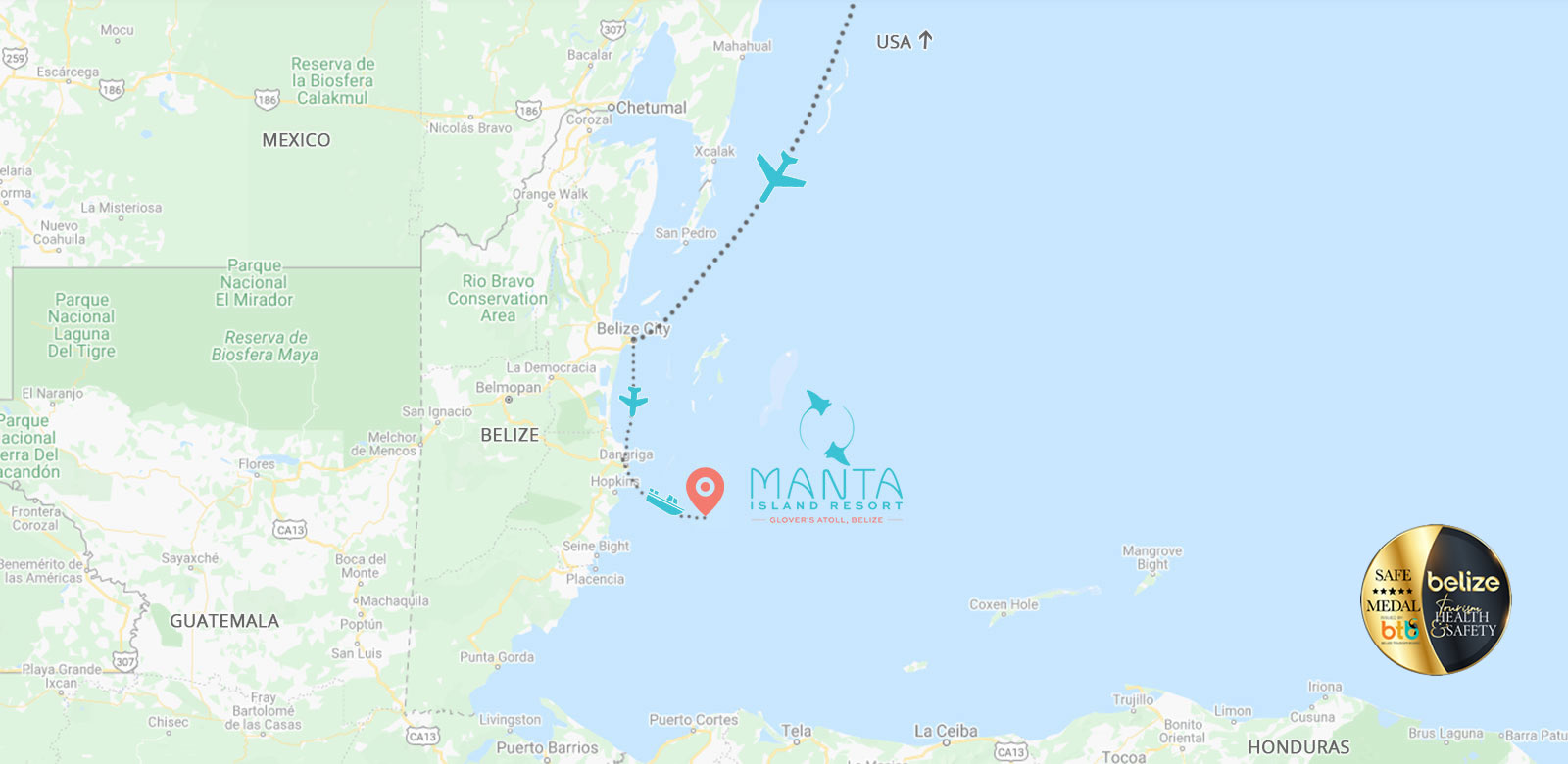 Tourism Gold Standard Hotel
Belize Is Open For Travel
New & Improved Health Standards
The Government of Belize implemented a Tourism Gold Standard which requires enhanced hotel and restaurant cleaning practices, social interaction guidelines, workplace policies, and standard operating procedures, while ensuring minimal impact on the guest experience. Manta Island and our sister properties have all achieved the Tourism Gold Standard Certification.
Covid-19 Belize Entry Requirements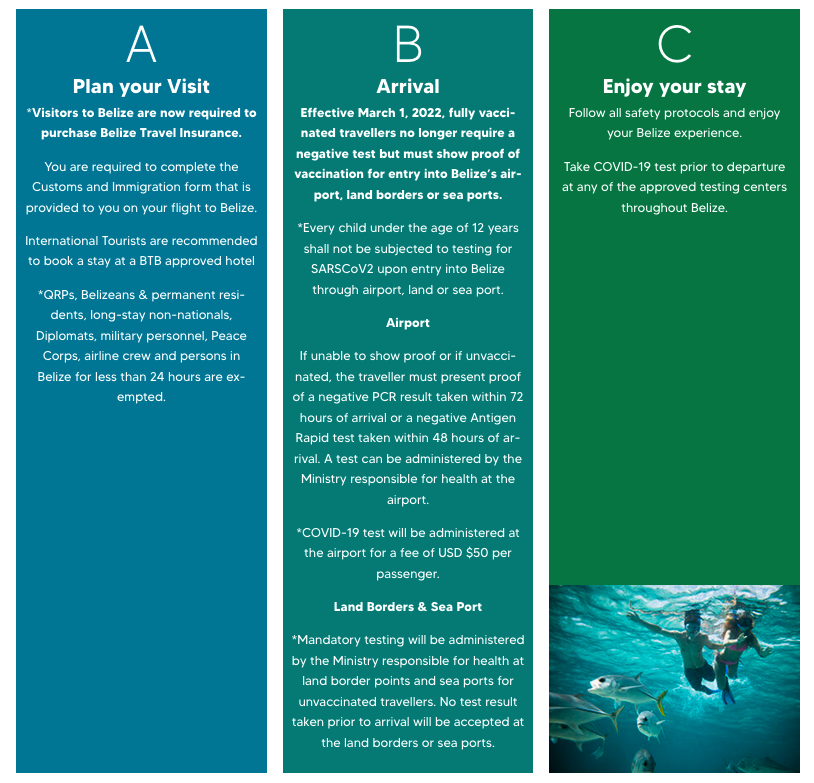 Entering Belize - More Details:
Belize is open for travel, there are a few things that you need to be aware of before your arrival:
For entry into Belize, a negative test is no longer required for fully vaccinated travelers, however, proof of vaccination is required.
All unvaccinated travelers or travelers unable to show proof of vaccination when entering Belize from other countries, can present proof of a negative PCR result taken within 72 hours of arrival or a negative Antigen Rapid test taken within 48 hours of arrival, according to the Belize Ministry of Health. If no card or test is presented, a COVID-19 test will be administered at the airport for a fee of USD $50 per passenger. Only cash is being accepted at this time; credit card machines and ATMs are not available.
Children's requirements are changing please check with the Belize Tourism Board for info.
Belize Insurance Requirement:
All Foreign Tourists entering Belize will be required to apply for Belize Travel Health Insurance. This mandatory insurance helps protect travelers against incurred medical and non-medical expenses, if they test positive for COVID-19 during their stay in Belize. It can be purchased before travel or at the Belize International Airport. "The cost of the policy is $18 USD and provides coverage for up to $50,000 USD in medical expenses related to treatment of COVID-19 for a period of 21 days. This insurance plan is online (https://www.belizetravelinsurance.com/) under the country's public health regulations and provides cover for lodging expenses due to quarantine up to $2,000 USD (max $300/day USD). Travelers will also be covered for emergency assistance services such as air evacuation and emergency expenses related to pre-existing conditions. Furthermore, it covers trip cancellations and expenses incurred by COVID-19 positive travelers for extended stays." Please do note that this does not cover you in the event that you test positive prior to arrival or for any other reasons you may not be able to travel. Therefore we recommend getting additional travel insurance to help protect your travel investment as well as to assist in ensuring medical coverage when traveling outside of the United States. Kindly note, procedures can change, so it's best to check with the Belize Tourism Board site for the most up to date information, that page also contains many helpful FAQs.
Upon Arrival in BZE - More Details:
All Foreign Tourists entering Belize will be required to to apply for Belize Travel Health Insurance at a cost of $18 USD, it can be purchased before travel or at the Belize International Airport.
You will disembark the plane and proceed to health screening.
After clearing Immigration and Customs, continue to the domestic airline, Maya Island Air, to check in and board your local flight. Depending on your health screening, you may be randomly selected for secondary testing.
If you are unvaccinated or unable to show proof of vaccination and you were unable to bring the results of a RT-PCR or approved rapid Covid-19 test, you will be required to proceed to the testing area for a COVID-19 test.
Testing is at the passengers' expense and costs US$50.00. Only cash is being accepted at this time; credit card machines and ATMs are not available. There is a waiting time of about 15 – 30 minutes to get results.
According to the Belize Ministry of Health: Any positive tourist can quarantine at our Gold Standard hotel. Quarantine is at the passengers' expense and the Ministry of Health must provide clearance for you to leave quarantine.
After being cleared by Health Officials, proceed to Immigration and Customs, and then exit the airport via the Tourism Safe Corridor using Gold Standard or certified air or ground transportation.
In the case of a display of symptoms while at the resort, you will be required to quarantine at the traveler's expense.
If you are placed into quarantine, our cancellation and rescheduling policies still apply. If you are required to be quarantined while at the resort for an extended period of time, guests can quarantine in the comfort of one of our sister resorts (located on the mainland). You will be billed for accommodations, meals, etc., to be paid at checkout. If you purchased the mandatory Belize Travel Insurance, it is your responsibility to be familiar with the policy as well as to submit any documentation needed for reimbursement. We are not affiliated with Belize Travel Insurance. Kindly note this is pending availability and may involve a room change.
We do not recommend traveling to Belize if you have displayed symptoms of COVID-19 in the last 14 days prior to your arrival date. This will prevent you having to quarantine in Belize for an extended period of time.
More information regarding entry requirements can be found on the Belize Tourism site: https://www.travelbelize.org/health-safety.
Covid-19 United States Entry Requirements
Fully vaccinated travelers can travel to the country without presenting a negative COVID-19 test result.
Unvaccinated travelers are required to show proof of a negative COVID-19 molecular/PCR test within 72 hours of their flight. The test must be administered by a laboratory, healthcare entity or telehealth service.
If guests traveling back to Canada wish to take a PCR tests, which require an appointment at an off-site facility, this can be arranged by the concierge or the front desk at least 48 hours in advance of the day of departure at a cost of US$200, guests will be required to stay an extra night at an inland resort in order to obtain the results from the PCR test. Please contact the front desk directly to let them know you will need a test.
The PCR test results usually require 24 hours and will be sent to the guest via email. The off-site facility sends the samples to their clinic in San Pedro via plane to process for results.
Travelers from Canada, kindly refer to this site for more complete details, as guests are responsible for understanding COVID travel requirements:
Manta Island Resort Health & Safety Plan
For the safety of our guests and staff, we have implemented a series of Covid-19 resort precautionary measures to ensure the health and well being while maintaining a warm & welcoming environment as follows:
Social distancing
As of April 1, 2022 mask wearing is no longer required for indoor and outdoor spaces
Low contact check-in & out procedures
Hand sanitizing stations across the property
Enhanced room cleaning & disinfecting and increased sanitization of public spaces and high touch surfaces
Staff vaccination plan implemented and underway.
Daily health checks for guests and employees
The following contact info and links have other helpful information for traveling to Belize and safety procedures the country is putting into place.
Ministry of Health Hotline: 0-800-MOH-CARE (664-2273)
Belize Tourism Board Information Line: 1-800-624-0686
If you have any questions please contact us via phone or email 

[email protected]

. We are here to help!
Hear What Travelers Are Saying About Our Collection of Resorts
"We made some great friends that we'll keep forever. Can't wait to go back!"